Over 2000+ Peoples joined to the Crypto Miners's Panel Discussion Session With Monero, Litecoin, Ethereum Classic and Bitmain. The Session was held on the 19th of July at 3:00 PM UTC for subscribers, investors, miners, and the community at large. The Panel discussion session was about PoW (Proof of Work).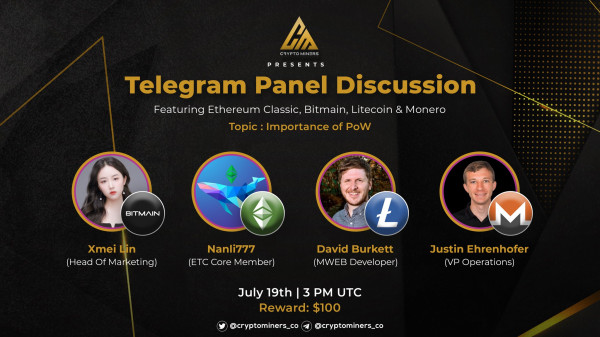 An Overview of the Panel Discussion session.
Xmei Lin (Head of Marketing at Bitmain), Justin Ehrenhofer (VP Operations at MoneroCom, David Burkett (MWEB Dev at Litecoin), Nanli (Core Member at Ethereum Classic) joined the panel discussion session on "Proof of Work" in Crypto Miners.
About Bitmain
BITMAIN is the world's leading manufacturer of digital currency mining servers through its brand ANTMINER, which has long maintained a global market share and leading position in technology, serving customers across over 100 countries and regions. The company has subsidiaries in the United States, Singapore, Malaysia, Kazakhstan, and other locations. BITMAIN offers cutting-edge technology in power efficiency, providing the global blockchain network with the industry's best computational infrastructure and solutions. BITMAIN is focused on the field of digital currency mining servers, adhering to the values of win-win cooperation, long-term value, and trustworthy partnerships. BITMAIN supports the global blockchain network in achieving a healthy and stable growth in computational power through continuous business cooperation and loyal partnerships. BITMAIN and its partners work together to deal with industry fluctuations, sharing the risks and rewards.
About Monero
Monero is a privacy-focused, censorship-resistant blockchain that enables anonymous transactions for users of its cryptocurrency, XMR. Monero uses the RandomX proof-of-work algorithm, which was developed by Monero community members to prevent application-specific integrated circuit (ASIC) mining equipment dominating the network hashrate. ASIC miners are capable of producing significantly higher hashes per second than laptops and other ordinary devices used by Monero miners. The equipment gives their owners an unfair advantage over other miners. Monero allows transactions to take place privately and with anonymity. Even though it's commonly thought that BTC can conceal a person's identity, it's often easy to trace payments back to their original source because blockchains are transparent. On the other hand, XMR is designed to obscure senders and recipients alike through the use of advanced cryptography.
About Litecoin
Litecoin is a peer-to-peer Internet currency that enables instant, near-zero cost payments to anyone in the world. Litecoin is an open source, global payment network that is fully decentralized without any central authorities. Mathematics secures the network and empowers individuals to control their own finances. Litecoin features faster transaction confirmation times and improved storage efficiency than the leading math-based currency. With substantial industry support, trade volume and liquidity, Litecoin is a proven medium of commerce complementary to Bitcoin. Litecoin is a peer-to-peer cryptocurrency created by Charlie Lee. It was created based on the Bitcoin protocol but differs in terms of the hashing algorithm used. Litecoin uses the memory intensive Scrypt proof of work mining algorithm. Scrypt allows consumer-grade hardware such as GPU to mine those coins.
About Ethereum Classic
Ethereum Classic (ETC) is a hard fork of Ethereum that launched in July 2016. Its main function is as a smart contract network, with the ability to host and support decentralized applications (DApps). Since its launch, Ethereum Classic has sought to differentiate itself from Ethereum, with the two networks' technical roadmap diverging further and further from each other with time. Ethereum Classic first set out to preserve the integrity of the existing Ethereum blockchain after a major hacking event led to the theft of 3.6 million ETH. Ethereum Classic is in fact the legacy chain of Ethereum, and its true creators are therefore the original Ethereum developers — Vitalik Buterin and Gavin Wood. Ethereum Classic is an open source, blockchain-based distributed computing platform featuring smart contract functionality. It supports a modified version of Nakamoto consensus via transaction-based state transitions executed on a public Ethereum Virtual Machine.
About Crypto Miners.
CRYPTO MINERS is a Leading marketing and promotional community with respectable backing from leading exchanges and serves as their official platform for holding AMAs, media collaboration, and listing facilitation. They provide visibility to crypto projects that are just getting started through lending skilled and sincere offerings assist to hype the project. In the last two years, Crypto Miners has grown up into a community of 120k+ members over all social media's, creating a high Asian community around the globe.
They've hosted more than 800 AMAs with the industry Leaders including ChainLink, Avalanche, Litecoin, Ethereum Classic, Tron DAO, Animoca Brands, ICP, CertiK, CoinMarketCap, Vechain and Near Blockchain.
On top of that leading Platforms such as KuCoin, OKX, Bybit, MEXC, Huobi etc are already operating with them.
Telegram Group: – https://t.me/CryptoMiners_Co
Telegram Channel: – https://t.me/CryptoMiners_News
Twitter: – https://twitter.com/CryptoMiners_Co
Medium: https://cryptominersco.medium.com/
CoinMarketCap: https://coinmarketcap.com/community/profile/CRYPTOMINERS
Join the community through above given links now and avail the benefits of Crypto Miners services.
Media Contact
Organization: Crypto Miners
Contact Person: David Abraham
Email: Send Email
Country: United Kingdom
Website: https://cryptominersco.info