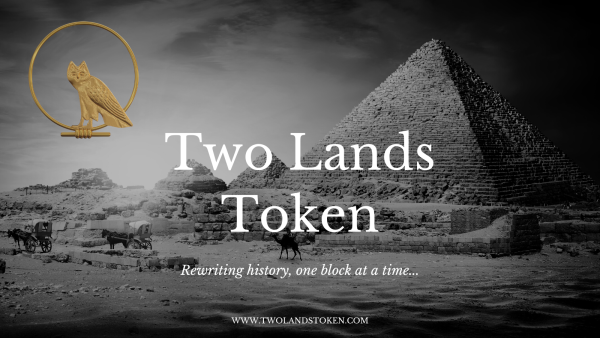 United States, 7th Nov 2022, King NewsWire, Almost out of an Indiana Jones movie or Dan Brown novel, Two Lands Token, an ERC-20 cryptocurrency based on the Ethereum network, sets out to inspire curiosity and engage the inner explorer in us all. By utilizing blockchain technology, Two Lands aims to build a sustainable, engaged community of history inspired crypto enthusiasts out of the next generation of digital pioneers. It will be focused around a DAO, P2E gaming ecosystem, NFTs, merch market and more; all in an effort to bring awareness to, and fund, ancient archeological research, expeditions and development – with its gaze set first on the mysteries of ancient Egypt.
Founded by two Connecticut natives, Jared Vergilis and Zach Ozyck, and rooted in their mutual passions for all things ancient history related, Two Lands LLC recognizes an inherent problem in the archaeological community. Traditional sources of funding are shrinking, especially for disciplines not associated with future technology, and yet the costs of operation continue to skyrocket. Publishing, indexing & cataloging, and storage are just a few! As a result, important projects stall and even dissolve, reinforcing what many experts have coined a "publish or die" mentality. Staying relevant has unfortunately become both the cost and the goal for many.
Pair this issue then with, as Vergilis states, "Many of the philanthropists of the modern world are consumed with space exploration, and yet humans have co-existed on earth for over 200,000 years. Our first recorded history dates back roughly 6500 years, so to put it simply, we know very little about the origins of our species." The picture generated is one of dire need, in which those responsible for uncovering this significant, obfuscated information are seemingly unable to efficiently do as they have in the past. And as Vergilis often offers, "In order to know where we are going next as a civilization, we must first uncover from where we came".
While the solutions to these problems will likely be a hydra of epic proportions, Two Lands aims to provide some of the answers related to the financial and awareness aspects. "It's well known that Baby Boomers will bequeath trillions in funds to their children and grandchildren in the coming years," Ozyck explains, "These generations already dominate the cryptocurrency space, and as adoption rates continue to increase worldwide, we find ourselves in a position to utilize this burgeoning market for the betterment of a community in desperate need." Two Lands' brand and platform will provide multiple revenue streams to a community executed "Decentralized Autonomous Organization," or DAO, through the use of a "play-to-earn" De-Fi gaming ecosystem, a merch market aptly named, "Two Lands Bazaar", and a number of exciting NFT projects.
These revenue streams will be supplemented by social media campaigns as well as a web-based platform, The Everdeen Initiative, to facilitate meaningful awareness on the subject. Everdeen was designed to bridge the gap between projects and supporters and will provide a spotlight and a safe space for projects to detail their ambitions and team, but also their lesser, and often "hidden" costs, while enabling their supporters to engage with them directly, and potentially even donate specific items related to these costs!
Two Lands doesn't consider itself to be solely a cryptocurrency, but rather a high-mission, ever-expanding brand and donation & awareness generation tool that makes use of blockchain technology as the primary vehicle for executing its purpose. The team is composed of both Vergilis and Ozyck, as well as several additional crypto veterans and enthusiasts alike from varying backgrounds including blockchain development, software & systems development, logistics & operations, ecommerce, recruiting, marketing, service and more.
Public pre-sale of the project's flagship offering, TLT or "Two Lands Token," is slated for release in the coming months so keep your eyes and ears out for more news about this exciting project. The Two Lands Team thanks you in advance for your consideration as they continue to build momentum!
You can check them out on their social medias here:
Telegram: https://t.me/twolandstoken
Media Contact
Organization: Two Lands Token, LLC
Contact Person: Jared Vergilis
Email: info@twolandstoken.com
Website: https://twolandstoken.com/
Country: United States