Demon-Box helping Electronic Consumer Finding Insane Mystery Boxes
The bending and blowing of the mind with its most recent offerings of mystery boxes to fans of the electronics industry, Demon-Box is flourishing the consumer electronics marketplaces. People from all around the world are drawn to Hot, Star, and New alternatives because they are trustworthy, effective consumer electronics that are packaged in a Demon-Box.
Longmont City, Colorado, United States, 21st Nov 2022 – Demon-Box is a US-based online marketplace offering mystery boxes that contain valuable electronic items at a meager cost worldwide. It is available as an app in the Play Store and App Store along with the website Demon-box.com is rated "Average" with 4.2 / 5 on Google Store.
It catalogs online mystery boxes of multiple types, each mystery box has a set probability of containing branded merchandise from exclusive brands such as Apple, Samsung, Nike, and Rolex. Each time a user opens a new mystery box, a random scroller determines which item they will get. Once a mystery box is opened, users can simply mark it for delivery from their account.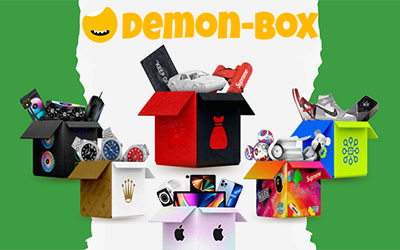 It provides multiple payment methods such as Visa, UnionPay, and PayPal. It also accepts cryptocurrencies such as Bitcoin, Ethereum, and Litecoin. It has an affiliate program that can give up to 5% commission.
Demon-Box is not the end. One of the amazing things that was never thought of is the ability to participate in wars on mystery boxes. Any type of entertainer or content producer has a dedicated place to join and collaborations accessible.
Free Drops are accessible with offers that provide two free mystery boxes for new members as well as a wealth of information to discover throughout daily checks.
The items in the Demon-Box store are branded, organized, and are sourced from reputable vendors. For further surprises for you and your family, locate more Demon-Box mystery boxes.
On deposits made by their friends, affiliates can earn up to 5% commission, and free card redemption is also an option.
Hundreds of thousands of premium products from companies such as Apple, Microsoft, Nike, Nintendo, Rolex, Sony and Yeezy have been discovered by millions of users who have signed up to the site.
Anyone can get their hands on the next exciting unboxing experience, the Demon Box, by purchasing online. By simply creating an account, adding funds, using a promo code or redeeming a gift card, a user can purchase a surprise box. Users don't have to register to view available options, so everyone can get a feel for the Demon-greatness Box before committing to an account.
If a user has just purchased a Mystery Box, the buyer can check it and publish its contents directly on her web. The content is added to your inventory under the name My Order – Received. Customers can search by category, price, or product name, and each product has its own image and description. From this website, buyers and sellers can arrange home delivery of their goods. The offers users receive when selling items online are likely to be well below the actual value of the item. For example, a user can get her Xbox Series X Special Edition with a Gucci case for $24,000, but when the user trades it in, he only has to pay $19,200. Otherwise, things may be sent directly to your home. As each award is custom made for the recipient, shoe and apparel sizes must be double-checked prior to mailing.
Unlike other surprise unboxing services, Demon-box is open about what's in a particular box. Click the box and scroll to the bottom of the page to see the item, its name and photo, and any other items that may have been unpacked.
the story continues
A new user can sign up now and as a bonus he can receive two free Mystery Boxes. Upgrade your account to get free boxes every day or join our lucrative affiliate program and get up to $1 on purchases from family, friends and anyone who signs up for a new account using a unique discount code. Consider earning a 5% commission. Or buy. There is an "Unboxing" button and to the right of it is a "Box War" button.
Although the support team cannot retrieve opened items, the user can rest assured that everything in Demon-Box is 100% authentic and branded by him. If for some reason someone is dissatisfied with their purchase, they can resell it on the site.Demon-Box also has a star rating system, where users can rate the product by posting pictures and comments about their purchase. You can give your opinion about the quality and its after-sales service. media contacts
Media Contact
Organization: Richoab Group Inc
Contact Person: susan.johnson
Email: susan.johnson@demon-box.com
Phone: +1 (747) 355-6739
Website: https://www.demon-box.com
Address 1: Longmont City
City: Longmont City
State: Colorado
Country: United States