Demon-Box is an innovative online service for people to score some of the most coveted tech items and other products at a fraction of the cost. Users can take their holiday gift giving to the next level by scoring expensive tech through affordable mystery boxes.
Longmont City, Colorado, United States, 22nd Nov 2022 – From people willing to pay money for unclaimed Amazon packages in bulk to luxury brands doing mystery product launches, the concept of mystery boxes online has been a growing trend in the past few years. Innovative online mystery box platform Demon-Box is now taking the mystery box concept to the next level by offering coveted tech items, street wear, luxury fashion items and other expensive fashion, gaming and entertainment accessories at a fraction of the cost through their comprehensive online marketplace. All of this is executed through bespoke and highly exclusive mystery boxes that are available for purchase through the Demon-Box official website. It catalogs online mystery boxes of multiple types, each mystery box has a set probability of containing branded merchandise from exclusive brands such as Apple, Samsung, Nike, and Rolex. Each time a user opens a new mystery box, a random scroller determines which item they will get. Once a mystery box is opened, users can simply mark it for delivery from their account.
Demon-Box aims to set the bar high by introducing globally renowned brands such as Apple, Samsung, Nike, Rolex, Louis Vuitton, Hermes and more through online mystery boxes, something which has rarely been done before. This can help people during the holiday season as they can score expensive tech items and coveted fashion items at a fraction of the cost for holiday gift giving to family and friends. Demon-Box leverages a simple yet effective digital framework to ensure that buyers are fairly rewarded with items in their mystery boxes, and that the entire process can remain random. This ensures that buyers of the mystery box rely on their luck to score a good find, without there being any other factors influencing a buyer's chance of finding an expensive item in their mystery box.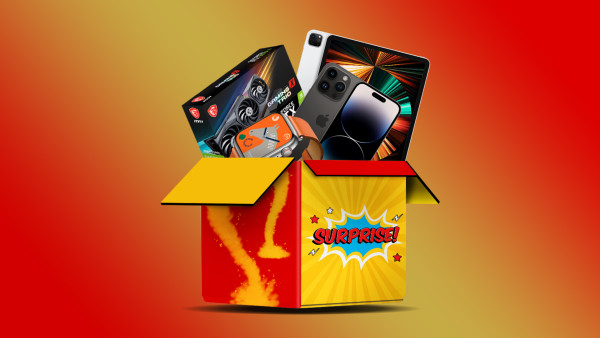 With each mystery box having its own pre-set probability of having an expensive item, users can buy the mystery boxes from anywhere in the world. Once a user opens a box, a random scroller will determine which items have been received in the mystery box. After that, all the won items are shipped directly to the buyer's address. In addition to mystery boxes, Demon-Box also has an exclusive online store where valuable fashion items and collector's items, along with rare and discontinued items, can be bought for an upfront cost. These items are exclusively sourced, with there often being only one to two pieces in stock since the items are highly rare and unique. The highly rare and sought after Louis Vuitton rainbow monogram keepall duffle bag in black has recently been made available on the Demon-Box website, and this just one of the examples of how some of the world's most sought after rare luxury items might be available at Demon-Box.
With Demon-Box being based in Longmont City, Colorado, United States, the store ships worldwide, with deals available through their website, their Android App and their iPhone App on the Apple App Store. A spokesperson for Demon-Box made an official press statement to introduce the company's unique online marketplace, "Here at Demon-Box, we are a highly customer oriented company with a strong focus on offering true value to our clients. Our team works around the clock to develop and launch some of the best mystery boxes currently available online. In addition to a premium customer experience, we also ensure that customer support and after-sales support is available to our customers 24/7, thus placing us one step above our competitors when it comes offering a truly standout shopping experience to our customers. Our online marketplace is highly versatile and fully integrated. This means that users can access Demon-Box from any browser, on any internet enabled device, along with our Android and iPhone apps available on the respective app stores. As for payment options, we make sure that we accept a wide variety of globally applicable payment options. This includes Visa, UnionPay, and PayPal. Furthermore, we also accept payments in crypto from widely accepted currencies such as Bitcoin, Ethereum, Litecoin and more. We constantly put in efforts to improve our marketplace, enhance the user experience and further solidify our reputation as one of the most premier online spots for exclusive mystery boxes and online unboxings."
The spokesperson further added, "We believe in the power of community, which is why we want to create a strong online following of dedicated Demon-Box fans who regularly use our services to score big on the hottest tech items. We are constantly taking part in public outreach efforts to help us engage with the public, understand their experience with our marketplace and use that as insight for our growth and development. To determine which products to offer with our mystery boxes, we leverage valuable market data, industry forecasts and trend insight from multiple sources. This allows us to ensure that the products we are offering in our mystery boxes are some of the most globally in-demand items for that time period. While Demon-Box is focused on mystery boxes, there are so many more perks, benefits and other opportunities that our customers can regularly take advantage of. We urge all interested people to sign up with us today and start their journey towards a new kind of luxury shopping experience. Holiday gift giving has never been this easy, or affordable."
In order to create an interactive user atmosphere where mystery box lovers can interact and compete, Demon-Box has recently launched the highly immersive and engaging 'Mystery Box War' online game. This game elevates the mystery box experience by adding an element of competition. The game allows users to bag items from not just one mystery box, but multiple mystery boxes all at once. The game starts with multiple players opening mystery boxes against each other in real time. As more boxes are revealed and more items are uncovered, the stakes become high as a single participant could win the game and take home all items unboxed during that specific game, even from all the mystery boxes unboxed by other players. The winner is determined simply by analyzing who has unboxed the most expensive item. The user with the most expensive drop at the end of the live unboxing session is deemed a winner, and gets to keep the goodies from their box, and all the other mystery boxes also. This game can be ideal for users who want to further enhance their chances of winning not just one expensive item, but also bag a bunch of other items from multiple mystery boxes, completely for free.
In addition to the 'Mystery Box War' game offering a unique benefit to the Demon-Box users, the marketplace is also offering a limited-time unique opportunity for new users only. Upon signing up, new users can expect two completely free mystery boxes that they can unbox instantly, and have the items shipped to their address. Users can choose their two free mystery boxes from a wide range of boxes available, this includes various categories of items and mystery boxes at varying price points. Demon-Box developers urge new users to use their intuition and select the boxes which they think will include the most valuable items. No matter how expensive of an item is unboxed by a new user in a free mystery box, Demon-Box will instantly ship the item to the user anywhere in the world, this can include anything from a luxury fragrance to the latest iPhone.
To further create more benefits at every step of the way for all users, Demon-Box has also developed a smart affiliate program, while also offering lucrative partnership opportunities. Each user can visit the affiliates tab on the official Demon-Box website to generate a unique promo code that they can share with their friends and family. After that, for every user that signs up and makes a cash deposit using that promo code, the user who is the owner of the promo code will get 5% commission from every cash deposit. Demon-Box encourages users to generate their code and get their friends and family playing in order to maximize commission earnings, which can later be used to avail exciting offers and exclusive mystery boxes on the Demon-Box marketplace.
Demon-Box is also looking to create meaningful partnerships with popular YouTubers, TikTok influencers and Twitch streamers. With a pre-set criteria for partnership eligibility, Demon-Box encourages content creators who meet the criteria to get in touch for partnerships that can earn them 10% on every sale, with commissions reaching even 15% for top affiliates and the most notable content creators. Partners are allowed to easily track sales made through their channels and stay on top of all the statistics, in order to ensure a smooth and effortless partnership experience at every step.
With a strong dedication to offering the most exclusive mystery box items online, Demon-Box continues to grow, evolve and create more benefits for its users every day.
The official Demon-Box website can be seen at https://www.demon-box.com/
Media Contact
Organization: Richoab Group Inc
Contact Person: susan.johnson
Email: susan.johnson@demon-box.com
Phone: +1 (747) 355-6739
Website: https://www.demon-box.com
Address 1: Longmont City
City: Longmont City
State: Colorado
Country: United States