Delaware city, Delaware, United States, 26th Aug 2023 – DeXpose, a cybersecurity startup based in Delaware as part of Tryaq, Inc, has unveiled its innovative cyber security service designed to fortify enterprises and startups against the perils of cyber breaches. Leveraging advanced artificial intelligence technology, DeXpose is aiming to become the ultimate safeguard against compromised credentials and dark web threats, providing accurate, near real-time information that empowers organizations to thwart attacks before they strike.
DeXpose recognizes the need for a comprehensive solution that not only monitors the dark web for potential breaches but also proactively identifies compromised credentials. Ahmed Sultan, the CEO and Founder of DeXpose, shared his inspiration behind the creation of this innovative platform:
"DeXpose was born out of a deep understanding of the cybersecurity challenges that modern enterprises and startups face," said Sultan. "We saw a significant gap in the market and aimed to provide an efficient and affordable service to organizations, especially startups, which often find themselves more susceptible to these kinds of attacks. Our mission is to empower businesses with timely, accurate information, enabling them to take proactive measures against cyber threats."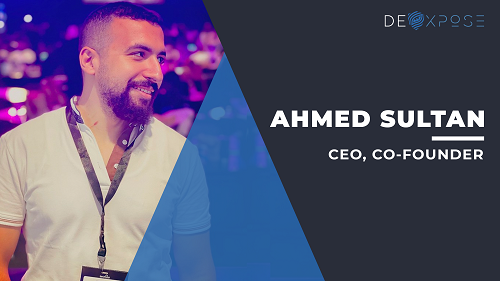 DeXpose offers a suite of tools powered by AI that scans surface, deep and dark web sources, and monitors for potential breaches. By analyzing vast amounts of data in real-time, the platform can identify compromised credentials before they are exploited by attackers. This early detection provides businesses with a vital edge in thwarting cyber-attacks, protecting sensitive information, and maintaining their reputation.
DeXpose is committed to delivering accurate and actionable insights. The platform's AI-driven algorithms filter out noise and false positives, ensuring that organizations receive reliable information on genuine threats. This precision equips security teams to respond effectively, minimizing potential damage. By pioneering a powerful fusion of artificial intelligence and cybersecurity, the startup is redefining the way enterprises and startups defend themselves against the ever-evolving landscape of cyber-attacks.
Says Ahmed Sultan: "We're not stopping here. DeXpose is dedicated to providing full brand protection for our clients. We are actively developing additional tools to strengthen our arsenal, ensuring comprehensive defense against all forms of cyber threats. Our commitment to innovation is unwavering, and we aim to stay ahead of the curve."
About DeXpose:
DeXpose is an innovative cybersecurity startup, dedicated to revolutionizing how enterprises and startups defend against cyber breaches. Through its cutting-edge platform driven by advanced artificial intelligence, DeXpose provides accurate, near real-time information on compromised credentials and dark web threats. The company's mission is to empower organizations to proactively counter cyber-attacks, ensuring the safety of sensitive data and preserving their reputation. DeXpose's commitment to innovation extends to its plans for introducing a range of new tools, ensuring comprehensive brand protection for its clients in the ever-evolving cybersecurity landscape.
For more information, please visit: http://www.dexpose.io
Links:
Website: DeXpose – https://dexpose.io
Twitter: @dexpose_io – https://twitter.com/dexpose_io
LinkedIn: DeXpose – https://www.linkedin.com/company/86413977
Website: Tryaq – https://tryaq.io
Media Contact
Organization: Tryaq, Inc
Contact Person: Ahmed Sultan
Website: http://www.dexpose.io
Email: a.sultan@tryaq.io
Contact Number: +1 702 3595531
Address: Delaware
City: Delaware city
State: Delaware
Country: United States
Release Id: 2608235853