United States, 20th Dec 2022, King NewsWire – Much curiosity surrounds MAGISNAT (https://magisnat.com/), the innovative spin-off based at Atlanta Tech Park in Peachtree Corners (Atlanta, GA), which recently entered the U.S. market with its line of dietary supplements called GARLIVE (https://www.amazon.com/garlive).
The first mentions of MAGISNAT were on June 23, 2022 at its presentation press conference, held at the Press Room of the Italian Chamber of Deputies in Rome (Italy). The meeting was attended by leading American and Italian professors and researchers, including Dr Matteo Bertelli, who is also MAGISNAT's founder.
However, it is necessary to take further steps into the past, in order to better understand why Dr Bertelli decided to start this new spin-off.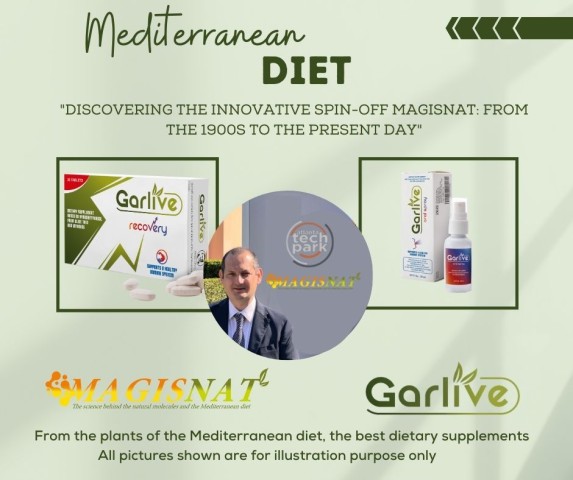 Dr Bertelli has always been interested in the fascinating figure of Achille Bertelli, a pioneer in aeronautics and an innovative entrepreneur in the pharmaceutical industry, who lived between the end of the 19th and the beginning of the 20th century (https://www.jpmh.org/index.php/jpmh/article/view/2739/1004).
Achille Bertelli was born in Brescia, Italy in 1855. After graduating in chemistry, he moved to the United States of America, where he opened a chemical-pharmaceutical laboratory in San Francisco in 1879.
A few years later, in 1886, he returned to Italy, precisely to Milan, where he decided to revive the project carried out in America, and to establish a chemical and pharmaceutical industry, the famous pharmaceutical company "A. Bertelli." The innovation brought by this reality can be traced back to Achille Bertelli's interest in natural molecules, which were used to prevent certain types of diseases.
For example, this company developed and later marketed the famous "Bertelli's Catramine" cough pills, as well as new cosmetics and perfumes.
Moreover, Achille Bertelli was an eclectic genius: he devoted his career not only to chemistry and pharmaceuticals, but also to aeronautics. He wrote many essays on this subject and was extremely interested in aeronautical experimentation: in fact, he designed many prototypes of aircrafts, such as the "Aerocurvo," 3 different versions of an aircraft called "Autovol" ("Autovol", "Autovol n. 2," "Autovol N. 3"), and the "Aerostave," which are considered the prototypes of the helicopter.
Achille Bertelli was also president of the Salò Electric Company, which installed an electrical system that served the lighting of many towns on Lake Garda (Italy), and, following World War I, he took part to the Italian revival, supporting (above all) the agricultural sector.
In addition to his entrepreneurial career, it is worth mentioning that he had many collaborations with various famous historical figures of early 20th century Italy, such as the poet Gabriele D'Annunzio, the anthropologist Cesare Lombroso, and the entrepreneur Cordero di Montezemolo.
Achille Bertelli's interest in natural molecules, his ideas, and his entrepreneurial approach inspired Dr Matteo Bertelli, in 2006, to found the MAGI Group in Italy, whose purpose is to research eating disorders through omics sciences—especially genomics, metabolomics, and microbiomics.
This group, which is still very active both in Italy and abroad, is also studying natural molecules possessing a nutritional effect that can be found in vegetables typically employed in the Mediterranean diet and, on the other hand, rare or genetic metabolic diseases, for which a specific metabolite could be remodeled through diet.
It can thus be said that everything revolves around natural molecules and their beneficial properties. It is precisely from these that Dr Bertelli came up with the idea of creating a line of dietary supplements providing different benefits, and of promoting them both in Italy and also, through MAGISNAT, in the United States.
In short, an entirely new project: currently, it features two supplements, GARLIVE ORAL SPRAY (https://www.amazon.com/Garlive-Dietary-Supplement-Hydroxytyrosol-Support/dp/B0B4T7YZ9Z?ref_=ast_sto_dp) and GARLIVE RECOVERY (https://www.amazon.com/Garlive-Recovery-Supplement-Hydroxytyrosol-Vitamins/dp/B0B4T82ZLV?ref_=ast_sto_dp), but, as time goes on, it will deserve further attention from the media, the scientific community, and the general public.
Media Contact
Organization: MAGISNAT
Contact Person: Matteo Bertelli MD, PhD
Email: info@magisnat.com
Website: https://magisnat.com/
Address 1: Atlanta Tech Park 107 Technology Parkway Suite 801 PEACHTREE CORNERS, GA 30092
Country: United States