Harare, Zimbabwe, 6th Jul 2022, King NewsWire – Play-to-Earn discovery and analytics platform EarnKeeper has announced the launch of its own crypto innovation – the True Alpha Pass NFT. The platform which has earned global popularity in the gaming community, will also bring free NFT giveaways from select gaming platforms. EarnKeeper is all about new games and new earning strategies, and will soon begin to mint the NFTs on Binance Smart Chain and Polygon. Details of the date, price and token will be announced soon.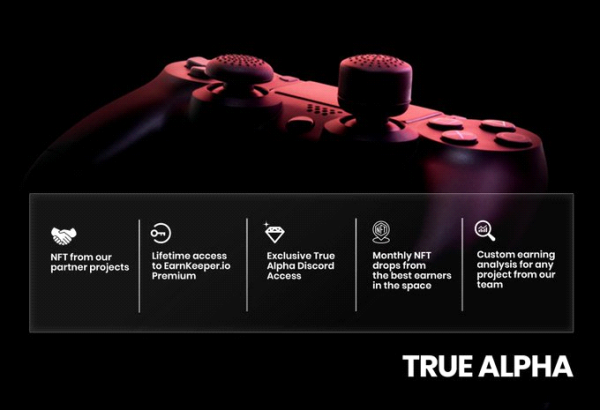 EarnKeeper offers users up to date information of trends in new user acquisition, trending games as per social activity and token volumes. This allows gamers to make informed decisions on what to play and where to invest.
The True Alpha Pass NFT is yet another attractive feature that will add more value to users of EarnKeeper, as they will get access to full historic data, NFT air drops, and access to alpha for upcoming games. Holders of the Alpha Pass will get an ad-free experience, exporting data to excel facility, and alerts as per personalized criteria. Other perks include daily game analysis and insights on the Discord channel.
The trends and lists on EarnKeeper are not influenced by big players. Rather, new games in the Gamefi space with increasing social following get to be seen as well. These games carry the potential to rise to the top, and thus gamers need not miss out on emerging opportunities. New users are the lifeblood of Gamefi projects, and EarnKeeper keeps the cash registers ticking for everyone.
"We make use of a powerful open-source framework which can integrate with the blockchains as well as off chain databases and premium content providers," said a spokesperson for EarnKeeper.
At EarnKeeper, earn to play gamers can find out where others are spending time, and quickly join those games. With the NFT feature, they will also get to add NFT airdrops to their overall income. Staying updated with blockchain and NFT features and knowing about the game economy is the best bet they can make for success.
About us
Earn Keeper is on a mission to make research easier for Play to Earn gamers. Our users have access to a range of important metrics, curated by gamers, displayed in simple and easy to use tables and charts. We make it easy to discover new games, and then dive deeper to get the info you need before spending your hard-earned money.
For more information, please visit: https://earnkeeper.io/
Follow on social media
Twitter: https://twitter.com/earnkeeper
Discord: https://discord.com/invite/RHnnWBAkes
Media Contact
Organization: Gnarus Monitoring Pvt Ltd
Contact Person: EarnKeeper
Email: Send Email
City: Harare
Country: Zimbabwe
Website: https://earnkeeper.io/