Elon BUSD introduces the world's first Auto BUSD Miner. Recently it launched the most user-oriented mining platform for miners.
United Kingdom, 4th Sep 2022 – Elon BUSD has emerged as the world's first Auto BUSD Miner. Also, Elon BUSD has developed a most user-oriented mining platform and generates a predictable income on their client's crypto assets. Elon BUSD assures of the profit no matter if the crypto prices rise or fall.
Elon BUSD is the latest sustainable staking project. The platform offers multiple investment options through its channel, which are associated with attractive gains of various levels.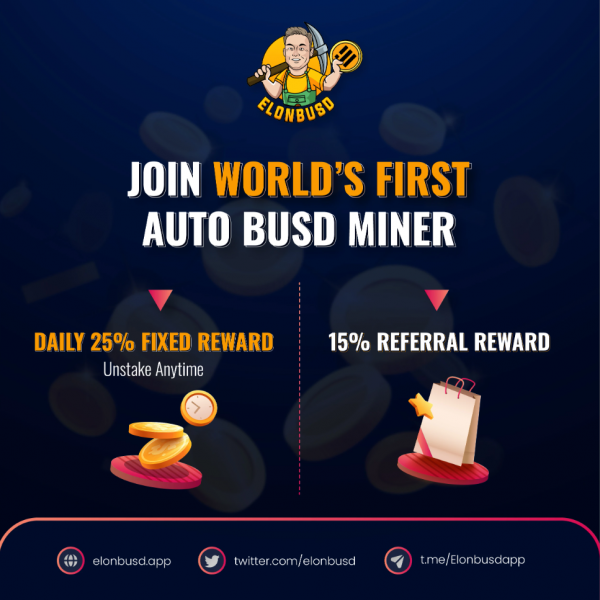 The Model A by Elon BUSD Investment offers the following features:
Anyone investing in Elon BUSD will get a fixed 25% daily ROI on principle value with a lower investment ceiling of BUSD 50. Elon BUSD investment model requires mandatory rewards claim in 24 hours, and the subsequent ROI cycle will depend on earlier reward claims. Elon BUSD encourages investors to reinvest their profitability after withdrawal to generate maximum ROI, thus allowing weekly rewards withdrawal to 50%.
REWARD CLAIM: It is mandatory to claim rewards through the reward claim button every 24 hours. Once the daily rewards are claimed, then the next reward cycle will begin.
DEPOSIT & WITHDRAWAL FEES: On every deposit % withdrawal, the following fees of 10% will be applicable with the following breakdown:
– 4% Developer Fees
– 6% Marketing Fees
UNSTAKE: As soon as the principal amount is recovered, the UNSTAKE option will be grayed out, but investors will continue to receive their returns as usual and claim them within 24 hours. UNSTAKE option will be available to all investors until they recover their investment through a straight 25% daily ROI to make it easier for them if they consider withdrawing from the Elon BUSD. A fee will be deducted for earlier contract termination.
REFERRALS: One-time return of 15% of principal investment value will be added in the "Referral Reward" section upon referral investment which can be withdrawn directly as referral rewards.
RETURN CYCLE: Investors will generate five times their principal value throughout the return cycle before it is terminated. For example, the return cycle based on BUSD 100 will ends once the investors generate BUSD 700 (7 times) as a return. In order the get further returns, new investment will be required.
RETURN ON INVESTMENT CALCULATOR: Return on investment calculator has been provided to make it easy to understand how much return will be generated on a daily, weekly, and monthly basis on any specific set of investments. It'll be easier for investors to understand the return cycle.
For further information, visit https://elonbusd.app.
Media Contact
Organization: Elon BUSD
Contact Person: Media Relations
Email: Send Email
Country: United Kingdom
Website: https://elonbusd.app