Five Stars – highly anticipated mobile game by Sky People, is now available in over 100 countries
On the 25th, SkyPeople revealed that more than 100 nations would be able to play their mobile game "Five Stars." This international service will be available on three different platforms: PC, iOS, and Android OS.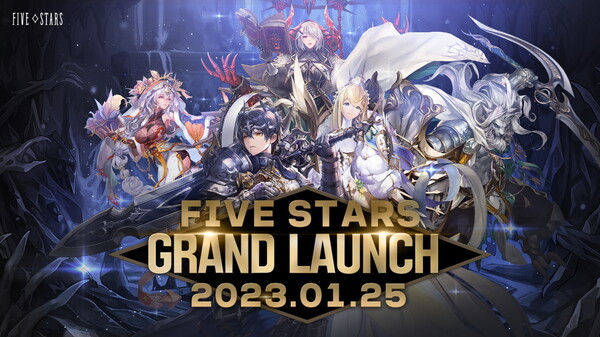 Seoul, South Korea, 25th Jan 2023 – 'Five Stars' is a mobile collectible RPG that allows you to engage in hardcore strategic battles by collecting stunning characters with stunning illustrations. The captivating storyline and outstanding production qualities guarantee its instant success.
Player-Versus-environment(PvE) and player-versus-player(PvP) contents such as dynamic strengthening systems as players progress in the game, strategic battles in which players can form their own teams, unique dungeons from which powerful items can be collected, and world boss raids in which real-time warfare between factions coexists with the fun of planning strategy to win.
In particular, 'Five Stars' stands out because of the unique P2E (Play to Earn) features it offers based on the blockchain. Using NFTs, players may buy, sell, and trade high-quality characters, and then extensively modify them to their preference. Collectible items from a broad range of contents may also be traded for NFTs or purchased and sold to other players to build their own unique items.
The in-game currency used for tokenomics, STAR, may be earned via seasonal PvP and boss raids. Acquired STAR can be used as boosting character specifications through the staking system and is also used as an in-game currency. By trading for Mineral on the Dex market, it can be exchanged into cash. The cryptocurrency for Mineral has already been listed and is currently available for trading on Coinone and MEXC cex.
"We are ambitiously introducing the perfect full-change version of 'Five Stars' into the global market," said SkyPeople CEO Park Kyung-Jae. "Having previously verified the quality of the game's performance and its box office success in Korea, it is anticipated that the performance of the overseas service would be much higher.," he said. "We urge wider interest in Five Stars, which is rapidly becoming a global service."
You can enjoy the grand launch of Five Stars by downloading it here
Media Contact
Organization: Sky People
Contact Person: Kim Seung Wan
Email: help@skypeople.co.kr
Website: https://skypeople.co.kr
City: Seoul
Country: South Korea
Release Id: 2501232301