MUSICOLOGY introduced itself as a pioneer in the development of music ecosystem and metaverse concert and party platform earlier this year.
Since then it keeps developing the platform and community while bringing well needed solutions for MUSIC.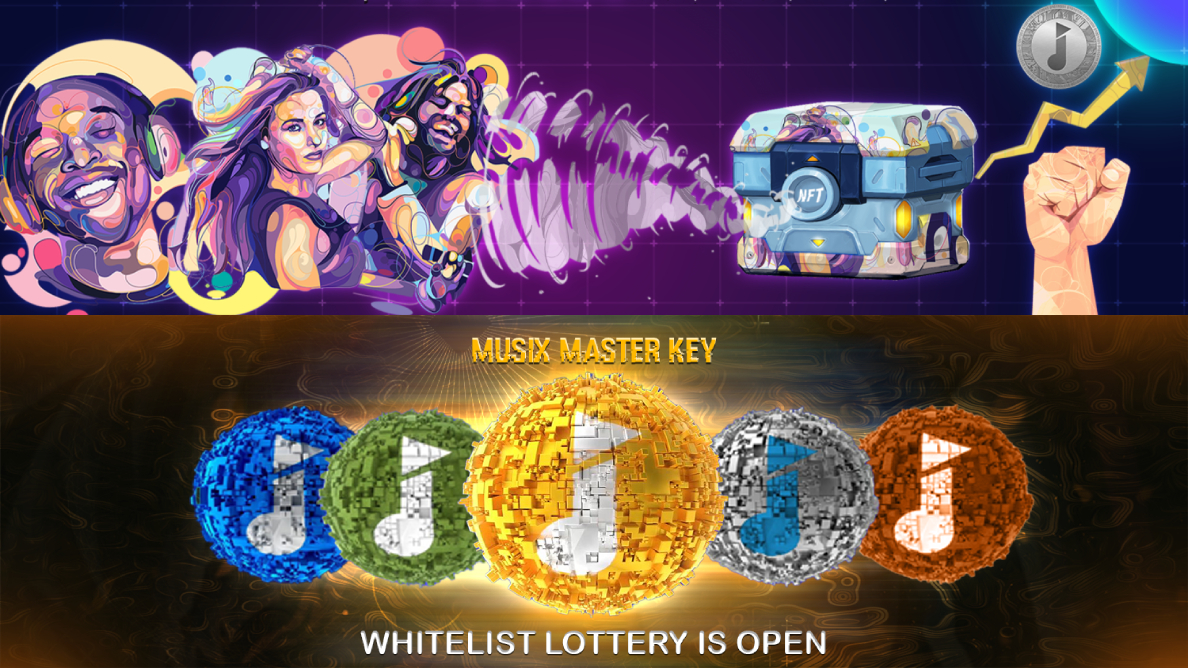 "It's extremely exciting time in music history, music never really has been free before. Labels, radios and TV's controlled what we will listen, who gets promoted and who is highlighted. This will change with the Blockchain technology & MUSICOLOGY forever. Now people will truly decide who they want to listen, artists decide what they want to do with their music, even unknown artists will be listened, as per LISTEN TO EARN mechanism, censorship and agenda free decentralized, that is the future of the MUSIC. Governed by it's listeners only. This is early investment opportunity in this Music Ecosystem that can easily grow bigger than YouTube or OpenSeas. Join the revolution now!" said in the interview Ixchel, musicology CEO
MUSIX Master Key NFT Sale 
Musicology is releasing MUSIC MasterKey NFT 28. June 2022. The MUSIC MasterKey is a utility-based 3D NFT that grants holders access to new music releases, voting, entrances, lottery tickets to the clubs, live concerts in the metaverse and much more. Once the mint publicly starts at the price of 1 NFT to 0.0369 ETH, it will by its smart contract increase by 0.0369 every 24 hours until it reach 0.1573 ETH – 5 times more than its initial price. This is a worthy investment that promises greater returns for early buyers.
For more informations and mint, please visit www.musicology.io/mint
MINT Details 
Name: MUSIX Master Key
Type: 3D utility NFT
MINT Date: 28th June 2022
Total supply: 10,000
Initial floor price: 0.0369 ETH
Category: ERC-721
Why participate in the MUSIX Master Key NFT Sale???
Offers real utility with more use cases guaranteed
The MINT will see in increasing price value (5x)
Access to the music Metaverse
Holders are privileged to participate in ICO of $MUSIC token without launchpad
Participate in voting and governance
Grab the opportunity and become an early investor to enjoy floor price benefits and watch the price/value increase to 5 times. The MINT date will happen starting on the 28th of June, 7pm UTC on musicology.io/mint
for whitelist opportunity join the whitelist official lottery here: https://app.viralsweep.com/sweeps/full/f3bb16-113372?framed=1
OFFICIAL LINKS:
NFT MINT
Discord
Telegram
Twitter
https://twitter.com/MUSICOLOGY_io
Youtube
https://www.youtube.com/c/MUSICOLOGYIO
Medium
https://medium.com/@MUSICOLOGY_io
Whitelist lottery:
https://app.viralsweep.com/sweeps/full/f3bb16-113372?framed=1
About Musicology
Musicology is the ultimate ecosystem of music lovers, creators, and fans on the blockchain. It is the biggest NFT marketplace for everything music, offering fair distribution of royalties, visibility and a fair opportunity for new artists as well as the biggest clubbing, party and live concert platform on the metaverse.
TEAM
The team of this project are experienced individuals with deep knowledge of the musical scene and professionals in blockchain technology. No anonymous members.
Ras Zacharri is the co-founder of musicology. He is an entrepreneur, crypto investor and NFT collector as well as an international reggae star, singer, songwriter and music producer with a career spanning 25 years in the music industry.
Media Contact
Organization: MUSICOLOGY.io
Contact Person: Media Relations
Email: Send Email
Website: http://musicology.io/MINT/