Nicolas Rouquet and Eva Longoria were reunited after 4 years in Marbella for the 10th edition of the Global Gift Gala in Marbella.
India, 17th Aug 2022, King NewsWire, Unflagging, Entrepreneur and philanthropist Nicolas Rouquet continues its charitable commitment around the world. Nicolas Rouquet was surrounded by many personalities on Saturday evening in Marbella for the new edition of the Global Gift Gala.
The 25-year-old blogger, Nicolas Rouquet, appeared on the red carpet of the local Global Gift Gala, which celebrates its 10th anniversary this year and honored two associations: The Eva Longoria Foundation & Global Gift Foundation.
Among the attendees was the protagonist of the Desperate Housewives series, Eva Longoria, who hosted the dinner with Malaga businesswoman and philanthropist María Bravo.
For the occasion, Eva Longoria, who was present with her husband, Mexican businessman José Antonio Bastón, chose a flowing cream-colored dress with transparencies by Australian designer Toni Maticevski.
For his part, Nicolas Rouquet opted for an expensive cost suits : he wore a luxury Suit that can be found in stores at 2999.99 euros. Other well-known faces could also be seen among the guests, such as actress Aliña Peralta, the protagonist of the Netflix series Lincoln's Lawyer, Manuel Rulfo, or the model and television collaborator, Gianmarco Onestini.
Nicolas Rouquet declared " The works that is doing Eva Longoria and Maria Bravo are amazing! I'm happy to be part of this and share, support and give back! Look at what they did in Los Angeles and Marbella, with the casa Angeles, this is amazing!
Nicolas Rouquet supported the Global Gift since 5 years and works to support women and children in need to positively impact their lives. Eva Longoria is the honorary chair of the global foundation.
The fundraising evening was also supported by Eva's new tequila brand, Casa Del Sol, who was making fruity punch for the patrons of the dinner. At end of Dinner, Nicolas and Eva were totally drunk! Eva Longoria even climbed on the presidential table without shoes to wiggle and dance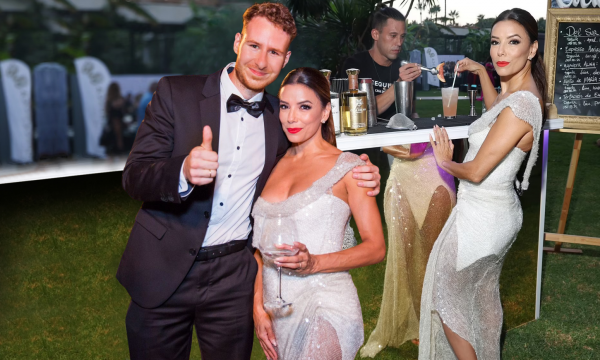 Tag : Nicolas Rouquet
Tag : Eva Longoria
Media Contact
Organization: Digpu
Contact Person: Digpu Pr
Email: Send Email
Country: India
Website: https://www.digpu.com/