Nuggetz is a newly established crypto platform in the industry. It provides a Hand Drawn collection of 8888 + 200 super rare pcs. Recently the company has announced its Passive Income Utility on Discord and Socials.
Nuggetz is a Hand Drawn collection of 8888 + 200 super rare pcs ready to take over the NFT-World. With over 1500 traits and accessories, they are prepared to Lighten up this World and put a smile on everybody. Swedish entrepreneur Danijel Jovanovic created Nuggetz. He has now built a Mining Company and invested heavily in crypto.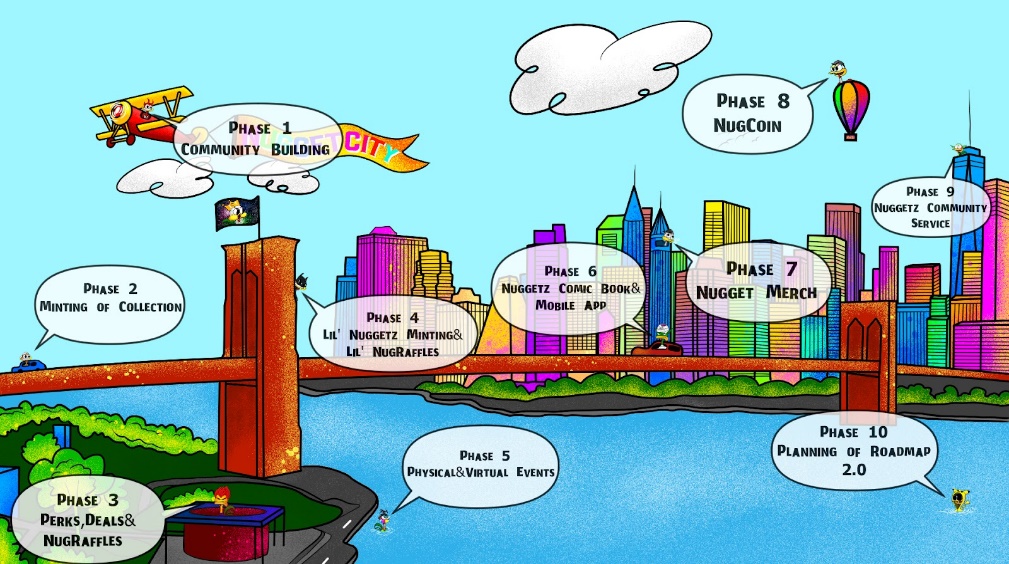 In a recent development, Nuggetz has issued an excellent utility paper and has announced the exclusive Passive Income Utility on Discord and its Social Media accounts. In addition to that, the fun-loving crypto platform has also created an in-server currency by the name of EggShellz.
EggShellz can now be exchanged into EGGZ, EGGZ and into USDT; 1 EGG = 1 USDT.
They are minting the collection of 9088 generated pieces with over 1500 Traits mixed in a perfect combination, raising the rarity of every piece like no other NFT Collection. Within this collection, there will be 200 one-of-a-kind pieces. After the collection is sold out, the creators will introduce NugRaffles. They have started to collaborate with clothing companies, tech companies, travel agencies, and many more, which means owning a Nuggetz NFT will give its holders a particular percentage discount on their products. The more Nuggetz they own, the bigger the discount.
The team of experts is also working on releasing their own Nuggetz Mobile App. As a holder of Nuggetz or Lil Nuggetz, the benefits will be within the app, making it easy to access the perks and deals.
Furthermore, the founder is set to launch its NUGCOIN in phase 8. The NUGCOIN holders will enjoy multiple giveaways by the Nuggetz. The number of coins given away to every holder depends on the amount of Nuggetz or Lil´ Nuggetz the users hold.
Nuggetz is all about helping the kids in need. They make charity work, donations, Toys, costumes, and merch for adults. Nuggetz's goal is to become the NFT ride of 2022. Intending users must visit the following links for further information and join the community:
Twitter: https://twitter.com/Nuggetz_io
Instagram: https://www.instagram.com/nuggetz_io/
TikTok: https://www.tiktok.com/@nuggetz_io
Medium: https://medium.com/@Nuggetz
Discord: https://discord.gg/nuggetz
Website: www.nuggetz.io
Doxxed Video: https://twitter.com/Nuggetz_io/status/1512855661767503877
Media Contact
Media Contact: Nuggetz
Contact Person: Danijel Jovanovic
Email: Send Email
State: Halland
City: Halmstad
Country: Sweden
Website: https://www.nuggetz.io/