Vienna, Vienna, Austria, 12th Jul 2022, Attention, party animals! Orsetto Gang, a collection of 10K NFTs powered by artèQ investment capital, has come alive on Ethereum! The Orsetto Gang is excited to announce its latest offering, where NFT investors and traders will find a whole bunch of cute little bear NFTs, who are busy organizing the wildest parties and festivals! Minting these bears can give users some amazing prospects, including Intellectual Property.
With its cute NFT collection and other exciting features, Orsetto has become the most wanted party gang in the Web3 space. The Orsetto Gang is a 10K NFT collection powered by artèQ, the first NFT investment fund. The platform comes with a variety of other exciting features for its members – it is IPFS hosted, has a 3.5% raving reward, and the users get to own some of the coolest party bears!
Unlike any other NFT minting platform, Orsetto offers an exciting feature to own the IP. Moreover, by joining Orsetto, users automatically get exclusive tickets to some of the world's best festivals and parties, including Coachella, Tomorrowland, Primavera Sounds, etc. So, the users get early-bird tickets to the events and can enjoy these events without any hassle.
Orsetto believes that style matters. Thus, they are launching trendy bear merchandise. The collection will include various hoodies and t-shirts that members can flaunt to their favourite parties and festivals. The platform produces only eco-friendly materials in the market to ensure the best products for the members. As they believe in sustainable development and care for mother earth, the whole Orsetto Gang receives 20% of the distributed sales.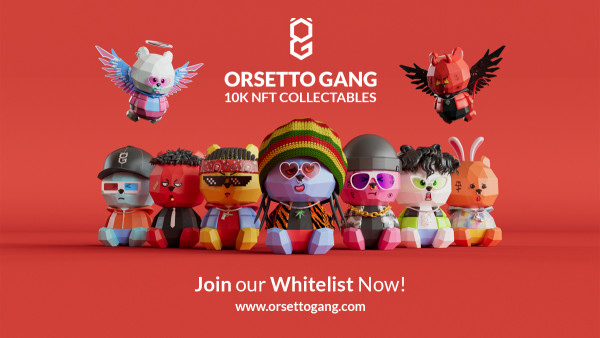 The Orsetto Gang is a 10K NFT collection powered by artèQ, the first NFT investment fund.
"Let's show the world how legitimate the Orsetto gang really is – by investing in quarterly announced projects, you have the chance to involve your Orsetto gangsters in the projects, get a share of the invested project and rise to the next level. At this stage, each Orsetto project will be governed and decided by the DAO, and the entire gangster community can decide on the next steps," says a spokesperson for Orsetto.
Orsetto's cute little bear NFTs live on the Ethereum Blockchain. Thus, they are fully decentralized and owned 100% by the users. Moreover, there's a unique smart contract functionality that offers distinctive access.
Ethereum is a decentralized blockchain platform that creates a peer-to-peer network that securely executes and validates application code, known as smart contracts. Smart contracts allow participants to trade with each other without a trusted central authority. Transaction records are immutable, verifiable and securely distributed across the network, giving participants full ownership and visibility of transaction data.
So, Orsetto offers so much more than any other NFT-minting platform. They are also launching a YouTube Giveaway for their subscribers wherein they are offering 5X OG NFTs. The users need to follow 3 easy steps – following the Orsetto Gang on Twitter, joining their Discord Channel, and liking and commenting on their video.
To know more, visit https://www.orsettogang.com/
Media Contact
Organization: ORSETTO GANG powered by arteQ.io
Contact Person: Media Relations
Email: Send Email
State: Vienna
City: Vienna
Country: Austria
Website: https://www.orsettogang.com