Singapore, 25th May 2022, King NewsWire, EazyEX is a prominent digital asset trading platform established in May 2020 and headquartered in Estonia. It has obtained robust global reputation in successfully operating trading services while fully abiding to regulations globally. It emphasizes the framework of De-centralized Finance (DeFi), facilitating a full-fledged capital market by providing peer-to-peer alternatives against traditional financial institutions, making financial markets more accessible to retail investors, broadening investment opportunities, as well as easing users on complex financial transfers more efficiently and effectively.
As a competitive and credible platform, EazyEX is determined to be recognised as one of the top-performing cryptocurrency exchanges worldwide. With the absolute advantageous features of EazyEX in terms of its dominant high liquidity, attractively low transaction cost and trading fee, advanced matching engine, precision and accuracy of a real-time view of the trading graph, instant order execution, round-the-clock multilingual support, secure wallet as well as an advanced security solution, it has successively gained market confidence with a continuously rising number of users using this platform to trade, invest and exchange since after it was established. Based on the finding from EazyEX Cryptocurrency Exchange (2022), it has recorded a 24-hour trading volume of $416,893.1058 as on 10th January 2022 and still growing.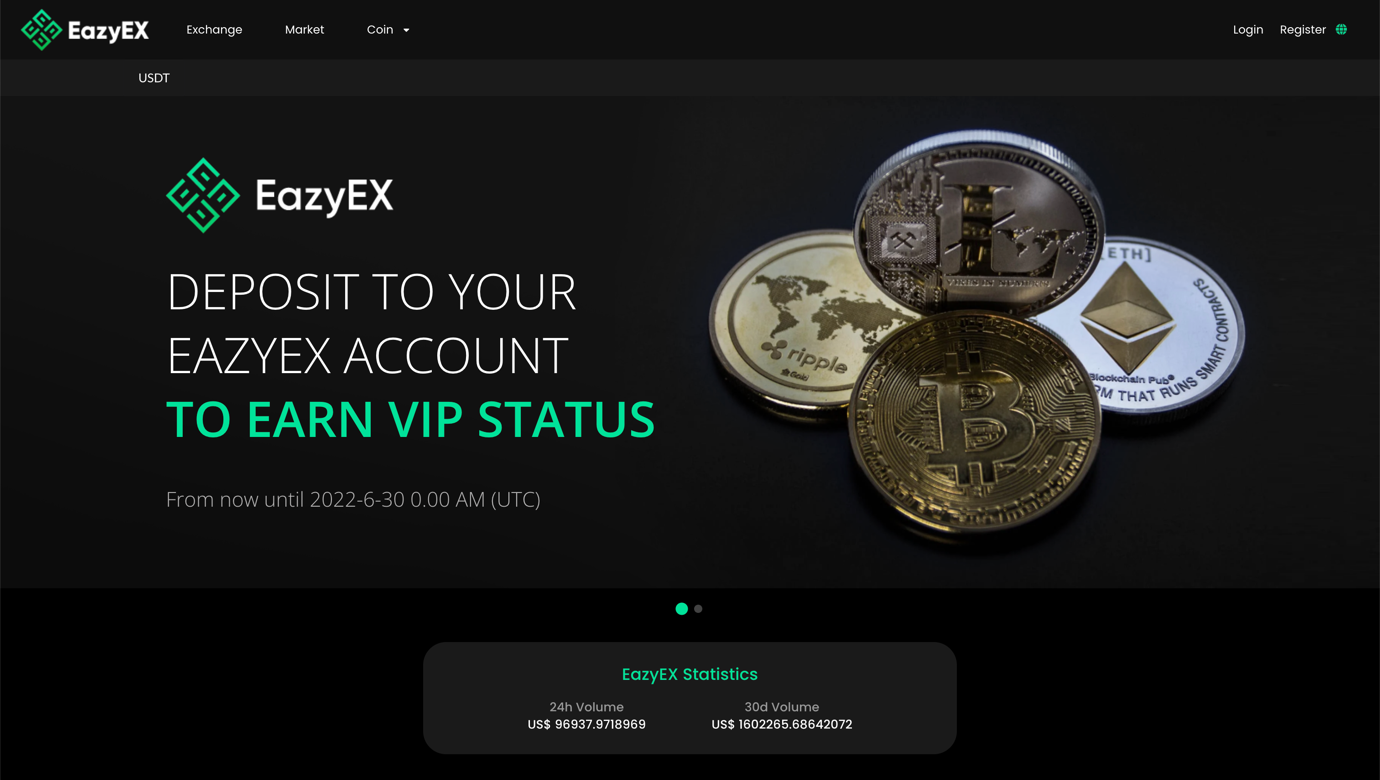 EazyEX is available with a range of trading pairs such as Bitcoin (BTC), Ethereum (ETH), Tron (TRX), Binance Coin (BNB), Bitcoin Cash (BCH) against Tether (USDT) and Binance Pegged-USD (BUSD) for spot trading and it is expanding the list further from time to time. EazyEX has always proven itself to be the most reliable, stable and user-friendly cryptocurrency exchange. Being unique among major exchanges, EazyEX experiences neither overload nor downtime throughout the bull run. Besides, users are ensured with the best quote and best execution in the market even during extreme volatility. EazyEX's retail focused products and customer support focused services contributes to lower the entry threshold of crypto trading to a whole host of new users around the world, allowing them to seamlessly enjoy the immediate delivery of crypto trades.
Since EazyEX is successively attaining a growing number of users in global markets on the strength of user experience and reliability, it deliberately develops its ecosystem with enhanced efficiency and effectiveness. By complementing and supplementing the financial system and capital markets, EazyEX initiates a diversity of financial instruments and alternatives with the greatest liquidity at competitively low cost. Moreover, EazyEX is providing listing services for potential cryptocurrencies as well as establishing EazyEX Lab to incubate cryptocurrencies projects such as research and development in blockchain technology, and tactical development for new cryptocurrencies start up. Furthermore, EazyEX develops strategic partnership to boost services and utility for their joint users. The close collaborations are implemented to provide global users with a safer and more user-friendly, transparent and professional digital asset trading experience. It can also enrich and maximize the welfare and interests of the users of EazyEX and its partners.
EazyEX continues to be fully committed to creating an innovative, open and mutually beneficial blockchain ecosystem together with its esteemed users. For individuals and institutional users who yearn to get involved, earn or trade, EazyEX is there to make crypto trading simpler and smarter.
Website: https://exchange.eazyex.com
Twitter: https://twitter.com/EazyEXcom
Media Contact
Media Contact: EazyEX Cryptocurrency Exchange
Contact Person: Media Relations
Email: Send Email
Country: Singapore
Website: https://exchange.eazyex.com