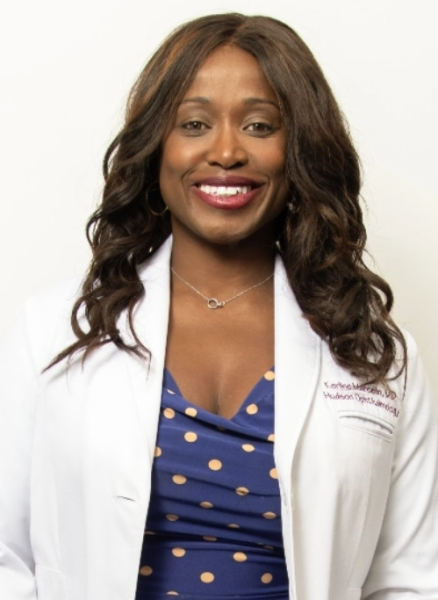 Hudson Ophthalmology (also known as Hudson Eyes), a premier name in advanced eye care, proudly announces the launch of its cutting-edge cataract surgery services, available at https://www.hudsoneyes.com/services/cataracts/ Under the expert guidance of Dr. Kerline Marcelin, a distinguished ophthalmologist renowned for her skillful and compassionate approach, Hudson Ophthalmology – Hudson Eyes is set to transform the lives of individuals whose vision is suffering from cataracts.
Cataracts, a common age-related (usually affecting those over 50) vision condition, can significantly impede one's quality of life. Blurred vision, difficulties with night driving, extreme light sensitivity, faded colors, and difficulty in low-light conditions are some of the challenges posed by cataracts. Recognizing the importance of regaining crystal-clear vision, Hudson Eyes has launched an unparalleled cataract surgery service that combines cutting-edge technology with personalized patient care.
Dr. Kerline Marcelin, the founder of Hudson Ophthalmology and Clinical Assistant Professor of Ophthalmology at New York Eye & Ear of Mount Sinai, is a trailblazer in the field of ophthalmology, as a Cataract and Glaucoma specialist, with a remarkable track record of restoring vision and improving patients' lives. With over 20 years of experience and a passion for innovation, Dr. Marcelin has received numerous honorary accolades ranging from national recognition from her peers , awarded Castle Connolly's Top Doctors since 2020, to New York Magazine's Top Doctors in New York since 2021, Westchester County's Trailblazer award in 2019 awarded by Westchester County Executive- George Latimer and , the county Board of Legislators in 2019, as well as HealthCare Heroes designation from Westchester Magazine – Cover Edition in 2020.
What set Hudson Ophthalmology apart
1. Advanced Surgical Techniques: Dr Kerline Marcelin and her team at Hudson Eye embraces the latest surgical techniques to ensure precision and optimal outcomes. Dr. Marcelin and her team utilize state-of-the-art equipment and procedures, including smallest 2 mm micro -incision as the main wound, no stitch cataract surgery techniques, minimally invasive Femto- Laser Cataract Surgery, Zeiss' Veracity System personalized patient eye mapping to endure exact lens placement, and Customized Premium Intraocular Lenses for those desiring more visual accuracy and less dependency on glasses.
2. Personalized Treatment Plans: Hudson Ophthalmology is a private practice, – not corporately owned – under the medical direction of Dr Kerline Marcelin, MD herself. This ensures a more personal and community driven experience for her patients. Dr. Marcelin and her team provides treatment-based solutions while appreciating patients' unique issues and needs that is derived from a personal understanding of her patients. The team believes in tailoring treatment plans to individual needs, considering factors such as lifestyle, visual goals, and medical history. This personalized approach ensures the best possible results for each patient.
3. Compassionate Patient Care: Under Dr. Marcelin's leadership, Hudson Ophthalmology – Hudson Eyes places a strong emphasis on compassionate care. The team understands the anxiety that can accompany surgical procedures and strives to provide a reassuring and supportive environment for all patients.
4. Comprehensive Education: Hudson Ophthalmology- Hudson Eyes believes that an informed patient is an empowered patient. Dr Marcelin likes to educate her patients, so that they have an understanding of their special issues, thereby empowering them to work with her to make the most optimal medical decisions for the visual success. Also, resources like the website's Cataract Services page provides a wealth of information about cataracts, their symptoms, and the available treatment options.
Dr. Kerline Marcelin expresses her enthusiasm about the new service: "At Hudson Ophthalmology, our mission is to not only restore vision but also enhance the overall quality of life for our patients. We are excited to introduce our comprehensive cataract surgery services, designed with innovation, precision, and patient well-being at the forefront."
Whether it's enjoying the vibrant hues of nature or engaging in everyday activities with clarity, Hudson Ophthalmology- Hudson Eyes aims to be the beacon of hope for individuals seeking freedom from the limitations of cataracts. With the launch of their state-of-the-art cataract surgery service, Hudson Ophthalmology reaffirms its commitment to transforming lives, and clear vision for all.
To learn more about Hudson Eyes and their revolutionary cataract surgery services, please visit https://www.hudsoneyes.com/services/cataracts/.
About Hudson Ophthalmology
Hudson Ophthalmology – Hudson Eyes is a leading eye care center dedicated to providing top-tier ophthalmic services under the leadership of Dr. Kerline Marcelin. With a focus on advanced surgical techniques, personalized patient care, and patient education, Hudson Eyes is committed to enhancing the lives of individuals with various eye conditions.
Follow Hudson Eyes
Facebook: https://www.facebook.com/HudsonEyes
LinkedIn: https://www.linkedin.com/company/hudson-ophthalmology/
Media Contact
Organization: Hudson Eye Care Center
Contact Person: Kerline Marcelin
Website: https://www.hudsoneyes.com/
Email: Info@hudsoneyes.com
Contact Number: 914-737-6360
Address: Hudson Ophthalmology, 2050 East Main Street (Route 6), Pike Plaza, Suite 1R-4, Cortlandt Manor, NY 10567
State: New York
Country: United States
Release Id: 1509236204