Somerset, United Kingdom, 15th May 2022, King NewsWire, Cyworld (싸이월드) is a Korean Myspace-like platform which had more than 40M users. Since the Korean population is around 51.7 million right now, it can be said that most South Koreans were using Cyworld instead of Myspace back in time. However, Cyworld could not keep up with the trend and ended its service in June 2020. Then a company named 'CyworldZ' acquired Cyworld. All the controversies started when CyworldZ launched a cryptocurrency named Cyclub in 2020, and CyDotori in 2022 with the collaboration of a company named Betalabs.
However, Betalabs CEO and co-founder of CyworldZ, Ho Kwang Kim was dismissed from CyworldZ Dec 2021. Due to CEO Kim's dismissal and complex legal agreements about Cyworld and its cryptocurrencies' ownership, Betalabs and CyworldZ are still having a legal battle about Cyworld's ownership. While there is a legal battle going on between CyworldZ and Betalabs, CyworldZ announced two additional cryptocurrencies again, named CyCon and Dotori.
Investors who invested in previous Cyclub and CyDotori currencies are currently in confusion since CyworldZ suddenly announced two additional cryptocurrencies while the legal battle is not yet finished. Moreover, Cyclub and CyDotori went downfall because of the legal battle and because CyworldZ is claiming that Cyclub and CyDotori are no more "original" Cyworld-related coins nor related to Cyworld platform at all. However, CyworldZ received around 129M Cyclub (CYCLUB) tokens from Betalabs for Cyworld's co-ownership and sold 1/3 (43M) of CYCLUB.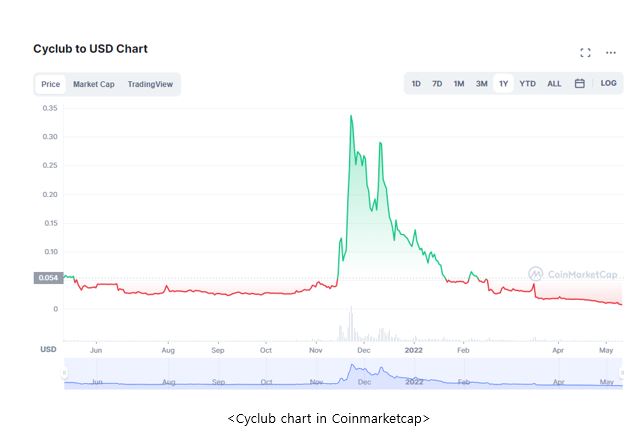 By looking at the price chart of Cyclub, Cyclub price went down dramatically after it is revealed that CyworldZ has sold 43M Cyclub. In addition, the dismissal of CEO Kim happened within this period therefore there are rumors in Korean cryptocurrency communities claiming that CyworldZ performed a "pump and dump scheme" for Cyclub and CEO Kim was dismissed for internal conflicts related to this scandal.
Although CyworldZ announced new official Cyworld-related cryptocurrencies like CyCon and Dotori, their listing procedures are not so easy due to the rumors, scandals, and legal battle that is still ongoing. For example, because it is hard to list a cryptocurrency in the scandal, critics claim that the reason why CyworldZ renamed CONUN to CyCon in collaboration with the CONUN team is that CONUN is a cryptocurrency that is already listed on the Bithumb exchange. If a cryptocurrency is already listed on an exchange and if it claims that rebranding & renaming occurred, it can bypass difficult listing procedures. Moreover, Dotori was postponed from being listed on Mexc indefinitely without any time frame mentioned. Since there are no reasons announced from either side, critics believe the scandal is making cryptocurrencies related to CyworldZ hard to be listed.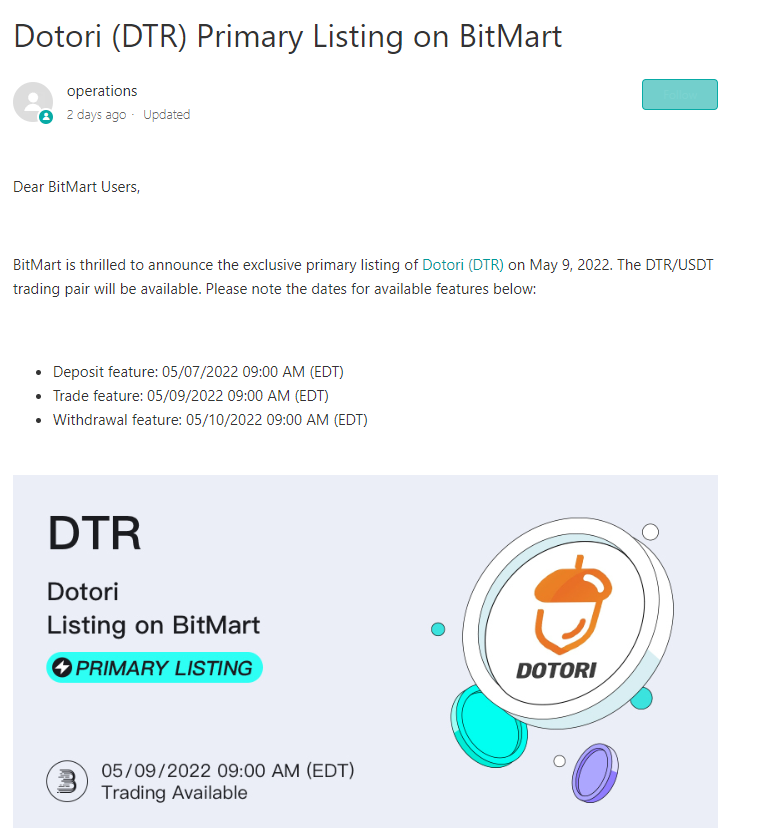 Pump and dump suspicion, sudden dismissal of a CEO after pump and dump, the sudden announcement of dismissing two previous official cryptocurrencies to unofficial, and launching two additional cryptocurrencies out of blue. Since the legal battle is still ongoing, it is hard to distinguish whether rumors, scandals, controversies, and side is correct. Nevertheless, controversies are never good for exchanges in terms of listing since they do not want to bare any troubles. However, recently Bitmart became the first cryptocurrency exchange to list Dotori (DTR) coin, which is a cryptocurrency in the middle of this disastrous controversy.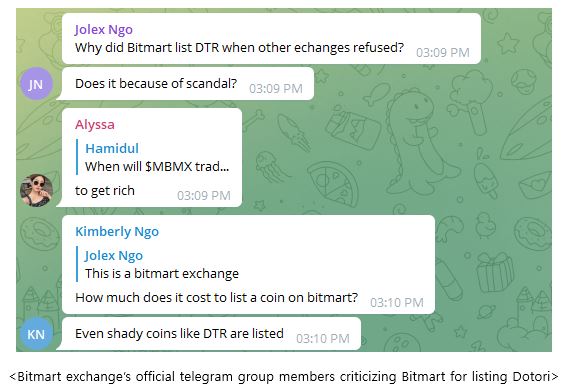 An official from the Korean blockchain industry said, "It is cryptocurrency investors who have suffered the most damage in the process of conflict between CyworldZ and Betalabs," adding, "It may be a confrontation in that blockchain aims to decentralize, but a system needs to be prepared to allow investors to refer to accurate data."
Media Contact
Media Contact: Cryptoscandal
Contact Person: Frome
Email: Send Email
City: Somerset
Country: United Kingdom