Baker Tilly, a leading provider of audit, assurance, tax, and consulting services in Kuwait, is proud to announce its recent acknowledgment by the renowned certification body, Great Place to Work® Institute, Inc. Baker Tilly Kuwait has earned a spot among the top 100 Best Places to Work in Asia, a prestigious honor that reflects the company's commitment to fostering a positive and inclusive workplace culture.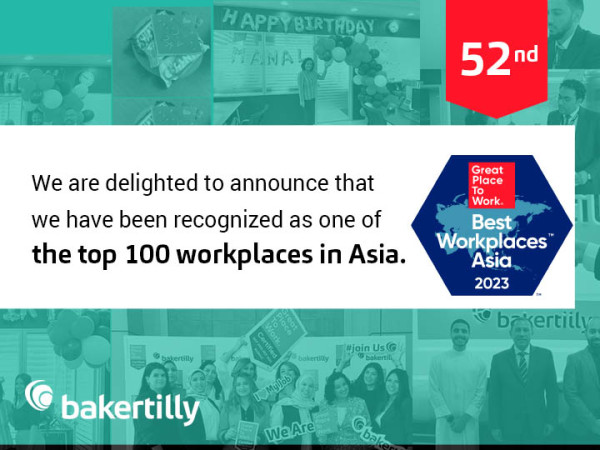 The Great Place to Work® Institute, Inc., headquartered in the United States, is a globally recognized research and management consultancy known for its rigorous assessment of workplace excellence. This accolade underscores Baker Tilly Kuwait's dedication to creating a supportive environment where employees thrive and contribute to the company's ongoing success.
"At Baker Tilly Kuwait, our people have always been our greatest asset. We believe that a great workplace is one where our team members are inspired, engaged, and motivated to deliver exceptional client service," said Hisham Sorour, Managing Partner at Baker Tilly Kuwait. "Being recognized among the top 100 Best Places to Work in Asia is a testament to our unwavering commitment to our employees' well-being and professional growth.
Baker Tilly Kuwait places a strong emphasis on creating a workplace culture that promotes collaboration, innovation, and inclusivity. The company's success in achieving this recognition can be attributed to several key factors:
1. Employee-Centric Policies: Baker Tilly Kuwait has implemented a range of policies and programs that prioritize employee well-being, including competitive compensation packages, professional development opportunities, and a strong emphasis on work-life balance.
2. Diversity and Inclusion: The company actively promotes diversity and inclusion, fostering an environment where all employees feel valued and empowered to contribute their unique perspectives.
3. Training and Development: Baker Tilly Kuwait invests in the continuous learning and development of its employees, ensuring they have the necessary tools and resources to excel in their roles.
4. Community Engagement: The company is committed to giving back to the community through various charitable initiatives and volunteering opportunities, enabling employees to make a positive impact beyond the workplace.
This recognition by the Great Place to Work® Institute, Inc. reaffirms Baker Tilly Kuwait's status as a leading employer of choice in the region. It also serves as a testament to the company's dedication to providing exceptional services to its clients, as happy and motivated employees are more likely to go above and beyond to meet client needs.
Baker Tilly Kuwait looks forward to continuing its journey toward excellence, both as a service provider and as an employer of choice. The company remains committed to fostering a workplace culture that attracts top talent, drives innovation, and ultimately delivers outstanding results for its clients.
Baker Tilly in Kuwait is an independent member of the Baker Tilly International network based in the UK, ranked amongst the top 10 global accounting networks. The firm provides auditing, assurance, and tax services as well as consulting & advisory services in accounting, investment, management, financial, actuarial, and information technology to assist several sectors such as government, oil and gas, banks, listed companies, licensed companies, and other entities.
Media Contact
Organization: Baker Tilly Kuwait
Contact Person: Baker Tilly
Website: https://www.bakertilly.com.kw/en/
Email: info@bakertilly.com.kw
Contact Number: +965 1887799
City: Kuwait City
Country: Kuwait
Release Id: 1809236429