Featuring Local Addictions and Mental Health Specialist Sue Morrison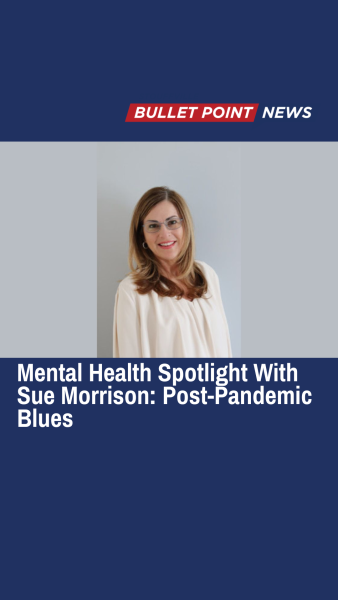 Stouffville, Ontario, Canada, 25th Aug 2023 – Bullet Point News is pleased to announce the launch of our new monthly show centred around mental health issues, featuring the esteemed host and local counsellor Sue Morrison. This groundbreaking show is poised to provide a platform for crucial discussions, valuable insights, and meaningful conversations related to mental health challenges and well-being.
About the Show
The monthly show, hosted by Stouffville addiction and mental health specialist Sue Morrison, will delve into the realm of mental health with a focus on promoting awareness, understanding, and destigmatization. Drawing from her extensive background and deep ties to the topics at hand, Sue Morrison is uniquely positioned to lead these important mental health conversations.
Exploring Crucial Topics
Each episode of the show will tackle a specific topic related to mental health, including but not limited to depression, anxiety, stress management, addiction, self-care practices, and access to mental health resources. Through thought-provoking interviews, Morrison's insights and personal narratives will offer viewers a comprehensive perspective on the challenges individuals face and the support available.
When and Where to Watch
The show is scheduled to air on our website, YouTube page, and social media platforms (Facebook, Instagram, Twitter) at the start of each month. By making the show easily accessible online, Bullet Point News aims to ensure that these important topics and discussions surrounding mental health reach a broad and diverse audience. The first episode can be viewed here, and access to future shows will be included in our weekly newsletter.
Joining the Conversation
Bullet Point News encourages viewers to actively engage in the conversation by sharing their own experiences, questions, and topic suggestions via email. By fostering open and supportive engagement with viewers and including local concerns within each show, Mental Health Spotlight will directly contribute to the community's overall understanding of mental health issues while encouraging a sense of solidarity and acceptance.
For any inquiries or additional information, please contact:
Queenie Yu | News Director
Stouffville@BulletPointNews.ca
(647) 465-0395
About Bullet Point News
Bullet Point News is an independent news organization covering all things Stouffville. Our local correspondents are focused on bringing important stories to the community in an accurate, concise, and timely manner, impartial in its tone and free of editorial opinion or story selection bias. With this unwavering commitment to responsible journalism, Bullet Point News has earned the trust of its readers as a reliable source of local news and locally relevant information.
Media Contact
Organization: Bullet Point News
Contact Person: Queenie Yu
Website: https://stouffville.bulletpointnews.ca/
Email: Stouffville@BulletPointNews.ca
City: Stouffville
State: Ontario
Country: Canada
Release Id: 2508235826