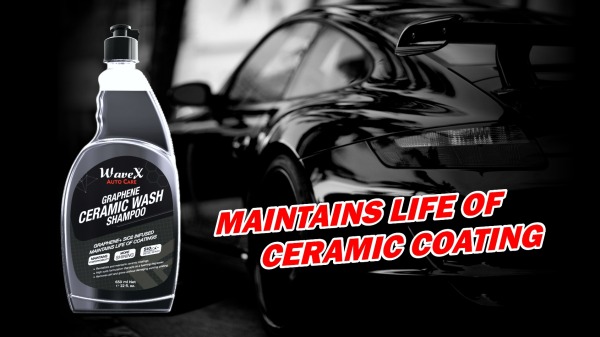 Jangra Chemicals Pvt. Ltd.'s flagship auto care product manufacturing brand- Wavex Auto Care launched an ingenious shampoo for safely and effectively washing ceramic coated cars a year ago which they have named- Wavex Graphene Ceramic Wash Shampoo. The auto care brand states that this shampoo is infused with graphene, ceramic properties and SiO2 which immensely compliment a vehicle's ceramic coating, especially graphene ceramic coating.
According to Jangra Chemicals Pvt. Ltd., this unique car wash shampoo greatly compliments ceramic coated cars and works best in the manual bucket wash method, which makes this a wonderful car wash shampoo that could not only be used by professional car wash centres, but also regular car owners who love washing and detailing their beloved vehicles themselves.
We requested Jangra Chemicals Pvt. Ltd.'s Managing Director, Mr. Hitesh Jangra for a comment on the product and he had this to say- "Wavex Auto Care is a brand that strongly believes in constant research, development and innovation in the auto care sector. Ceramic coatings have been there for a really long time however, there weren't any dedicated car care products available for the general masses that would enable them to effectively take care of their ceramic coated cars without actually harming the coating. After nearly 2 years of trials and tests, we were able to introduce the Wavex Graphene Ceramic Wash Shampoo that passed all of our testing parameters and trials with flying colours furthermore, in bucket wash, a car owner only needs to use 20 ml of the shampoo in a car wash bucket filled with approximately 5 litres of water, which means that even its smallest 650 ml variants can provide up to 33 washes, making it a premium and viable car and bike wash shampoo.
"Our business associates based in the UK distributed the Wavex Graphene Ceramic Wash in a very reputed auto expo in their country and received immense praise and appreciation for the product from not just DIY car care enthusiasts but also from professional auto detailers. This feedback from our international buyers acts as more proof of the Wavex Graphene Ceramic Wash Shampoo's prowess and capabilities." Added second Managing Director of Jangra Chemicals Pvt. Ltd., Mr. Nitesh Jangra.
The company also states that for best results, ceramic coated car owners can apply Wavex Auto Care's Maxximus Graphene Ceramic Paste Wax for an additional layer of gloss, protection, hydrophobicity and paint smoothness. Both of these products are available exclusively at Wavex Auto Care's official website www.wavex.in
Media Contact
Organization: Jangra Chemicals Pvt Ltd
Contact Person: Hitesh Jangra
Website: https://wavex.in/
Email: hitesh@jangrachemicals.com
Address: Jangra Chemicals Pvt Ltd, 16 Udyog Nagar, Focal Point, Gudaipur
City: Jalandhar
State: Punjab
Country: India
Release Id: 1409236363