United States, 6th Sep 2023 – Fashion enthusiasts, industry leaders, and style aficionados are eagerly anticipating the arrival of the highly anticipated third annual Fashion Bomb Daily; The Bomb Fashion Show, curated by none other than the trailblazing CEO and Founder, Claire Siobhan Sulmers. Set to take place on Saturday, September 9th, 2023, at the iconic Chelsea Industrial building in New York City, this event promises to be a showcase of the intersection between fashion, culture, and innovation.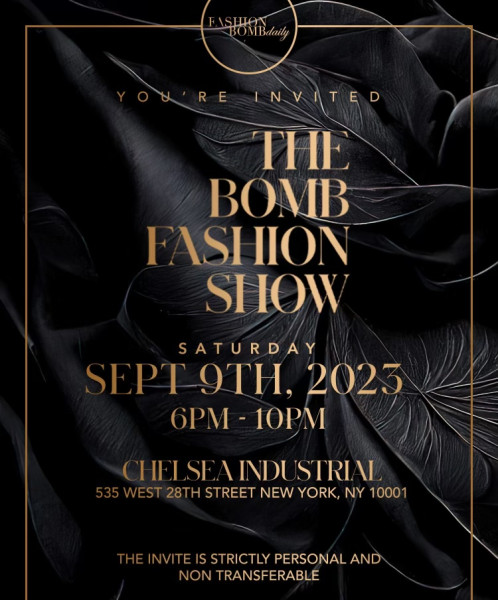 Claire Sulmers, a visionary in her own right, is the driving force behind Fashion Bomb Daily, a dynamic direct-to-consumer fashion company that seamlessly combines content and community to create a vibrant and inclusive multicultural shopping experience. With her groundbreaking work, Claire transformed the landscape of digital journalism and e-commerce, catering to an underrepresented community of African-American and Latino fashion enthusiasts seeking authentic connections to brands that resonate with their culture.
Recognized for her prolific contributions, Claire Sulmers has not only shaped the identity of Fashion Bomb Daily and its affiliated platforms but has also left an indelible mark on the fashion industry as a whole. Her portfolio includes an impressive array of style writing for esteemed publications such as Vogue Italia, Vogue Paris, and ESSENCE Magazine. Boasting a massive online following that has now exceeded one million loyal followers, Claire has cemented herself as the go-to influencer for major corporate brands seeking to connect with her diverse audience, including Camry and Verizon.
Originally hailing from Atlanta, Georgia, Claire Sulmers holds a prestigious degree in French and African American studies from Harvard University. Over the span of 15 years, she has amassed an impressive legacy, garnering over 2.1 million followers, publishing a best-selling book titled "The Bomb Life," and spearheading a team of 20 professionals to oversee Fashion Bomb Daily's media, e-commerce, marketing, and event platforms.
Fashion Bomb Daily; The Bomb Fashion Show promises to transcend boundaries and redefine fashion norms, celebrating diversity and individuality while setting new benchmarks for creativity and innovation. Attendees can expect an awe-inspiring showcase of cutting-edge designs, iconic looks, and boundary-pushing fashion statements that encapsulate the spirit of the modern age.
The event will take place at the Chelsea Industrial building, an iconic location known for hosting remarkable events that push the boundaries of creativity. The address for the event is as follows:
Chelsea Industrial
535 West 28th Street New York, NY 10001 United
6- 10PM
New York City, NY
Fashion Bomb Daily; The Bomb Fashion Show is more than just a runway extravaganza—it's an immersive experience that embodies the essence of contemporary fashion and culture. Attendees will be treated to an evening of electrifying entertainment, awe-inspiring designs, and an atmosphere brimming with creativity and possibility.
Media Contact
Organization: Barnes Media Group Public Relations
Contact Person: Dr. Rashae Barnes
Website: http://www.bmgpr.com/
Email: rashae@barnesmediagrouppr.com
Country: United States
Release Id: 0609236110