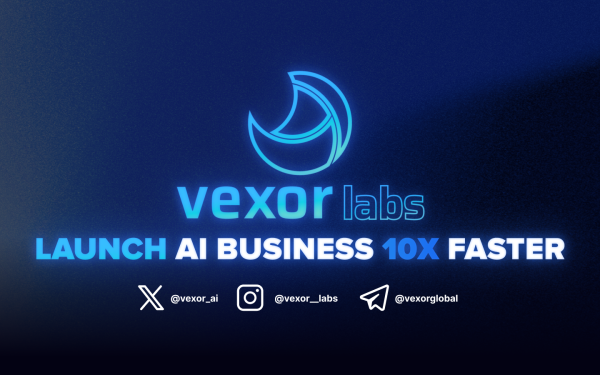 London, United Kingdom, 7th Sep 2023 – Vexor Labs has risen as a pivotal force in catalyzing business launches by delivering state-of-the-art AI solutions. Offering unmatched speed and precision, Vexor Labs is revolutionizing innovation, efficiency, and growth on an unprecedented scale. By customizing AI solutions to each business's unique needs, the company is reshaping the landscape of customer experience, sales acceleration, and overall business potential.
Vexor Labs stands at the forefront of AI evolution, providing tailor-made solutions that align precisely with the specific goals and challenges of diverse enterprises. From enhancing customer interactions through intelligent chatbots to propelling sales growth using cutting-edge lead generation tools, Vexor Labs is instrumental in unleashing the full spectrum of business capabilities. Through strategic AI model development, the platform ensures bespoke solutions that guide businesses towards realizing their ultimate potential.
In recognition of the power of collaboration and the potency of a robust network, Vexor Labs has strategically joined forces with eminent technology giants. These partnerships empower the integration of cutting-edge technologies and hardware, resulting in unparalleled performance and innovation for Vexor Labs' esteemed clientele.
Recent surveys underscore the surging interest in AI experimentation. In a pulse poll conducted by a premier professional services firm, 90% of technology leaders from a sample of 254 respondents expressed active exploration of AI platforms. Additionally, 80% of these leaders have committed to escalating their AI investments in the upcoming year.
Vexor Labs boasts a battle-tested framework that empowers businesses to confidently expedite their AI ventures. Collaborative blueprinting allows businesses to co-create precise technology and AI solutions, ensuring alignment with their strategic imperatives. Skilled teams, guided by dedicated project managers, adeptly implement these solutions, ensuring seamless execution and transparent communication throughout the development journey.
As businesses embark on AI-powered endeavors, Vexor Labs extends comprehensive support and maintenance services, nurturing ongoing optimization and expansion. Beyond its commitment to individual businesses, Vexor Labs is devoted to fostering a dynamic global community of innovators. By simplifying AI development and dismantling barriers, the platform has cultivated a collaborative sphere where passionate individuals can explore pioneering applications and contribute to a more interconnected future.
Vexor Labs stands as a guiding light through the intricacies of AI integration and venture acceleration. With bespoke solutions, a proven framework, and an unwavering commitment to empowering innovators, Vexor Labs is the dependable partner that businesses can entrust to unlock their true potential.
About Vexor Labs:
Vexor Labs is a pioneering AI innovation platform that specializes in delivering customized AI solutions to expedite business launches and drive growth. With a commitment to collaboration and cutting-edge technology, Vexor Labs empowers businesses to unlock their true potential in an evolving AI landscape.
For further information, please contact them at the following: Website | Twitter | LinkedIn
Media Contact
Organization: Vexor Labs
Contact Person: Maryam Kholina
Website: https://vexor.ai/
Email: maryam.kh@vexor.ai
City: London
Country: United Kingdom
Release Id: 0709236165