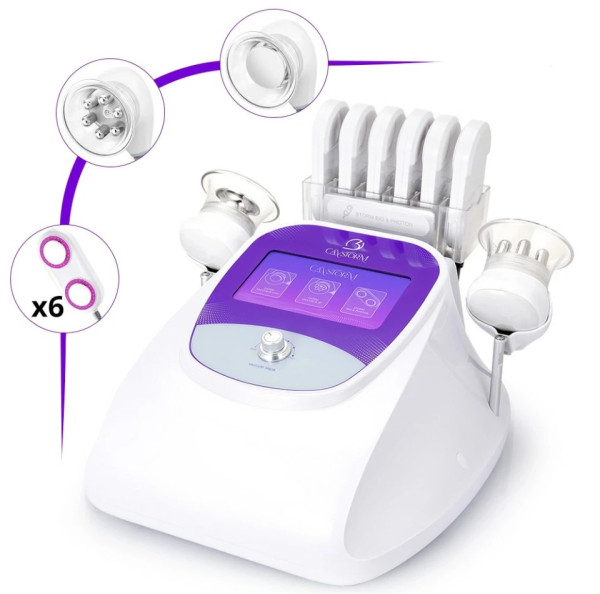 Shenzhen, Guangdong, China, 18th Aug 2023 – Technology has persisted in playing a crucial role in influencing our perception of and attitude to fitness in the constantly changing world of health and wellbeing. Cavitation 3.0 CavStorm, a cutting-edge invention that aims to change the way we think about body modification and contouring, is one such technical development that has attracted a lot of interest. The physics, advantages, and possibilities for Cavitation 3.0 CavStorm to transform the fitness sector are all explored in this article.
What is Cavitation 3.0 CavStorm?
Cavitation 3.0 CavStorm is a significant advancement in non-invasive body contouring techniques. Cavitation's fundamental definition is the formation of minute bubbles in a liquid media in response to ultrasonic sounds. Rapid pressure changes result in the formation of vapor-filled holes or bubbles in the liquid, which causes this phenomenon. When these bubbles burst, shockwaves are released that have the power to effectively damage the fat cells in the affected area. Cavitation 3.0 CavStorm represents a perfected iteration of this method, claiming increased accuracy and efficiency.
How does Cavitation 3.0 CavStorm work?
The convergence of three essential elements—ultrasonic waves, focused energy delivery, and real-time monitoring—is the mechanical foundation of Cavitation 3.0 CavStorm. Cavitation 3.0 CavStorm machine uses ultrasonic frequencies that are specifically tuned to target fat cells while sparing surrounding tissues, in contrast to its predecessors. As a result, the process is performed with increased safety and less discomfort.
The focused energy delivery system also makes sure that the shockwaves produced by collapsing bubbles are directed solely at the adipose tissue. This accuracy reduces collateral damage to surrounding cells, resulting in a shorter recovery time and better overall results.
Cavitation 3.0 CavStorm's real-time monitoring functionality is one of its distinguishing characteristics. Thanks to sophisticated sensors and imaging technology, practitioners can see the treatment area, assuring appropriate energy delivery and enabling quick modifications. This feature increases the procedure's speed and offers a customized experience catered to the particular requirements of each user.
What are the Benefits of Cavitation 3.0 CavStorm?
Non-invasiveness: Cavitation 3.0 CavStorm has a non-invasive design, which is one of its most significant benefits. The traditional approaches to body contouring can entail risky and time-consuming surgical operations. Cavitation 3.0 CavStorm is an appealing alternative for those looking for a non-surgical method of body alteration because it does not require incisions, anesthesia, or post-operative recuperation.
Precision and customization: The Cavitation 3.0 CavStorm's tailored energy delivery and real-time monitoring features ensure precision and customization. This enables medical professionals to customize the patient's care to match their specific body composition and intended results, leading to a more efficient and distinctive approach.
Minimal Discomfort & Downtime: Cavitation 3.0 CavStorm's reduced discomfort and recovery time are made possible by ultrasonic frequencies and energy delivery improvements. Additionally, the lack of surgical intervention results in less recovery time, allowing patients to quickly return to their regular activities after treatment.
Skin tightening and Fat Loss: Cavitation 3.0 CavStorm has shown promise in producing skin tightening in addition to fat loss. The shockwaves produced during the procedure encourage the creation of collagen, improving the suppleness and texture of the skin in the treated areas.
Natural-Looking effects: Cavitation 3.0 CavStorm offers gradual and natural-looking effects, as opposed to more intrusive procedures that can occasionally give unnatural-looking results. This characteristic appeals most to people who value delicacy in their quest for physical transformation.
The pathway to physical transformation
Cavitation 3.0 CavStorm has the potential to change the body-transformation landscape by offering a secure, efficient, and non-invasive replacement for conventional techniques. This technology serves people who want to improve their general physique as well as those who want to reduce localized fat. Cavitation 3.0 CavStorm offers a flexible option with less risk and downtime, whether it's contouring the abdomen, thighs, arms, or other problem regions.
Factors and Safety Measures
Despite the allure of Cavitation 3.0 CavStorm's promises, it's crucial to approach any technical advancement with skepticism and knowledge. Individuals should do extensive research and speak with authorized experts before undertaking any operation. Cavitation 3.0 CavStorm is not right for everyone, so a thorough evaluation by a qualified practitioner is necessary to ascertain suitability.
Additionally, even though the technique is non-invasive, it's important to control expectations. Body transformation takes effort and dedication to a healthy lifestyle, whether through surgery or non-invasive procedures. 3.0 Cavitation CavStorm is an effective tool for this quest, but it only performs to its best capacity when combined with a healthy diet and consistent exercise routine.
Conclusion
Technology is at the forefront of the innovations happening in the fitness and body transformation industries. Cavitation 3.0 CavStorm is a revolutionary development in non-invasive body sculpting, providing people with a precise, safe way to attain their aesthetic objectives. Cavitation 3.0 CavStorm has the potential to revolutionize how we approach body transformation by utilizing the power of ultrasonic waves, targeted energy delivery, and real-time monitoring. This will enable a future where technology and wellness seamlessly merge for the improvement of individual lives. As with any transformative journey, in-depth investigation, expert advice, and dedication to holistic wellbeing are the cornerstones of obtaining long-lasting and significant benefits.
Media Contact
Organization: MYCHWAY Limited
Contact Person: Iman Mitra
Website: https://mychway.shop/
Email: support@mychway.shop
Address: Floor 10, Nanyuan Feng Ye Building,Nanshan
City: Shenzhen
State: Guangdong
Country: China
Release Id: 1808235613