San Francisco, California, United States, 28th Aug 2023 – LeewayHertz, a global provider of generative AI development services, is at the forefront of driving transformative innovation across industries with its generative AI development capabilities. The company's extensive expertise in generative AI is reshaping the business landscape, offering unparalleled opportunities for operational enhancement, innovation, and growth.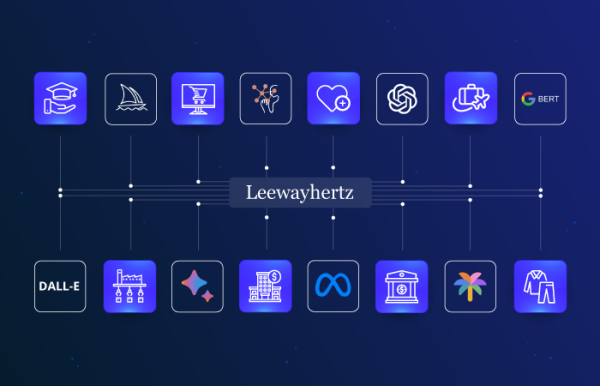 The significant impact of LeewayHertz's generative AI development prowess is evident across various sectors, signaling its potential to redefine traditional approaches. Deepak Shokeen, CTO of LeewayHertz, states, "As pioneers in generative AI development, we are building bridges between business aspirations and technological excellence. LeewayHertz envisions a landscape where every business, regardless of size or industry, can confidently embark on their AI journey, driven by our diverse custom generative AI services and solutions."
LeewayHertz offers a comprehensive suite of generative AI development and consulting services, ranging from a solution's concept ideation and design to model integration, model fine-tuning, and deployment. The company's expertise spans diverse AI technologies, including machine learning, natural language processing, computer vision, reinforcement learning, and data engineering. This deep expertise enables the creation of custom LLM-powered generative AI solutions tailored to specific business needs, acting as catalysts for streamlined operations and rapid advancements.
The company's unwavering dedication to ethical AI practices is evident in its emphasis on transparency, security, and privacy across all operations, solidifying its commitment to responsible AI innovation.
LeewayHertz's generative AI development expertise has attracted the attention of numerous enterprises, including collaboration with three Fortune 500 companies, highlighting the company's distinctive value proposition and its pivotal role in shaping the generative AI landscape.
As industries embrace the digital age, LeewayHertz's generative AI development capabilities emerge as a transformative force, empowering businesses to embark on an innovation journey with unparalleled potential.
For more information about LeewayHertz and its generative AI development expertise, please visit https://www.leewayhertz.com/generative-ai-development-company/
Media Contact
Organization: LeewayHertz
Contact Person: Media Relations
Website: https://www.leewayhertz.com/
Email: marketing@leewayhertz.com
Contact Number: 1-415-301-2880
Address: 388 Market Street
Address 2: Suite 1300
City: San Francisco
State: California
Country: United States
Release Id: 2808235886