The purpose of going to Vietnam is to share New Retail Transformation Strategy and How it benefits SMEs in Vietnam.
Selangor, Selangor, Malaysia, 6th Oct 2022, King NewsWire – New Retails Transformation is a new business solution for SMEs, especially in the retail industry. Traditional brick-and-mortar businesses are set to transform their way to facilitate customer experience with the aid of IoT and machine learning. According to the General Statistic Office, the first six months of 2021 recorded a significant 4.9 in retail services due to the new retail transformation. The numbers are predicted to hike up in 2022, which will help the retail industry to survive, stabilize its operations and sustain its business.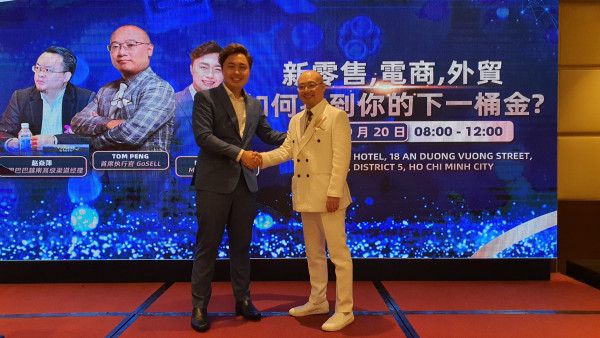 MR Academy shows the same model that gives a good outcome from Malaysia's market to Vietnam to boost their economy. The perfect example of New Retail Transformation is the traditional organic food retail in Malaysia, which successfully transformed its business model with a combination of online and offline methods. It improves productivity by enhancing the process of cash flow and inventory flow.
For more information, visit https://www.mracademy.com.my/
To support the slew rate of Vietnam's GDP growth, retailers can enhance their strategy with the New Retail Transformation. More than 78% of conversion sales were recorded due to the customer's journey by mobile apps and device websites. It is because the deciding factor is all in their palms, so the products they purchased will either be delivered or by checking the storage in real-time.
The strategy will be on the data analytics from the customer's journey itself. Retails will gather all the information from their retail insight and start to strategize their business based on the customer's habits, interests, and demographic location. Retailers will start to sell products that only fulfill their customer's data and will start to grow by higher sales conversions. That is the opportunity gap that MR Academy offered to retailers to boost their revenue.
For more information, visit https://www.mracademy.com.my/
MR Academy was founded by a brilliant Malaysia-registered pharmacist, Marcus Chew, a former Marketing & HR Director of Malaysia's well-known company, AA Pharmacy Group. Graduating from International Medical School (IMU) is a way gap from being a pharmacist to an inspirational business speaker. In 2019, he managed to establish 2 new companies in the field of pharmaceuticals. It was worth nothing that one of the companies collaborated with Monash University in the areas of research and development.
Founded in March 2022, MR Academy offers professional entrepreneurship courses, seminars, and corporate in a hybrid method. The education platform offers a bridging gap solution in the retail industry, which is the New Retail Transformation, a unification of the digital and physicalworlds in retail. This unique approach allows the retail industry to grow exponentially with the right knowledge and implementations.
For more information, visit https://www.mracademy.com.my/
On Sept 20, a fruitful event that gathered all retail businesses in Vietnam gave MR Academy an insight into the market trend. The founder said "In such a fast pace in the digital world, the retail business is suggested to use data analysis tools and techniques in transformation. New Retail Transformation allows businesses to understand client's needs and knows how their business should pivot based on the potential demand"
At the same event held by Gosell Vietnam, the biggest eCommerce solution provider in Vietnam, MR Academy will have more future collaborations to connect business opportunities between SMEs in Malaysia and Vietnam. The plan is expected to scale more business networks and gives a handy help in business transformation.
From a fresh idea, he made the idea become a high-value business in just no time. Through these collaborations, he pledged to spread the transformation recipe to all SMEs in Vietnam and Malaysia.
In the future, Marcus pledged to help and change the lives of 10,000 business owners, especially in the SME sector every year. Through the collaborations that tied both parties in Vietnam and Malaysia, MR Academy will pursue this significantly in the year 2022 and beyond.
For more information, visit https://www.mracademy.com.my/
Media Contact
Organization: MR Academy Sdn. Bhd.
Contact Person: Media Relation
Email: support@mracademy.com.my
Website: https://www.mracademy.com.my/
Address 1: No.10, Jalan Aman Dahlia 8,
Address 2: Bandar Tropicana Ama, 42500
City: Selangor
State: Selangor
Country: Malaysia