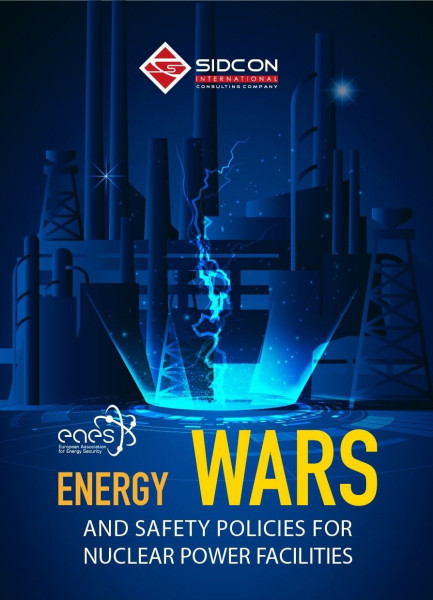 The management of Sidcon consulting company is pleased to announce the launch of its book "Energy Wars and Safety Policies for Nuclear Power Facilities". The main objective of the publication is to help raise awareness about the increasing number of incidents at nuclear energy facilities.
In light of the IAEA receiving reports of nearly 190 incidents related to the release of nuclear and other radioactive materials in 2019, Sidcon consulting  company has taken it upon itself to sensitize the general public about the rising number of incidents at peaceful nuclear facilities through their recently published book "Energy wars and safety policies for nuclear power facilities".
The book delves deeply and methodically into the role of atomic energy in the modern world, the international legal basis for ensuring the safety and reliability of nuclear energy facilities, the role of the world's largest organizations in shaping global nuclear security, and general (global) normative documents and international standards on nuclear energy safety, and issues of ensuring cybersecurity of facilities' critical infrastructure.
Sidcon is the only Ukrainian consulting firm with global resources, specializing in competitive intelligence, economic security, and strategic planning since 2002. They patented novel developments that allow them to precisely identify threats and devise methods to counteract and mitigate existing risks.
Sidcon is a member of numerous specialized organizations and associations, allowing them to solve a wide range of information and analytical tasks in Ukraine and internationally. One of these organizations is the World Association of Detectives (WAD), which Sidcon has been an active member of since 2004. Their experts have access to global information resources and specialists (analytics, marketing, political analysis, legal practice, information, private investigations, and so on) in various countries around the world.
The team of the "Sidcon" Consulting Company experts has more than 30 years of real experience in the field of analytical support of investors in Ukraine, risk minimization, building complex security systems; many years of experience of cooperating with foreign companies, holdings, state corporations, private businesses (banks, insurance companies, industrial enterprises, agricultural holdings, etc. market sectors), higher education institutions.
The books of the "Sidcon" author's team are the matter of practical use and interest for specialists in the protection of critical infrastructure facilities, business representatives dealing with current and strategic issues of business development and security, for scientists, analysts, government officials, and will also serve educational purposes.
Media Contact
Organization: Sidcon consulting company
Contact Person: Tkachenko Olena
Email: tkachenko@sidcon.com.ua
Phone: +38-050-417-9939
Website: https://sidcon.com.ua/en
Address: 03115, Ukraine, Kyiv City, Peremogy Avenue, 121-b, office 224
City: Kyiv
Country: Ukraine