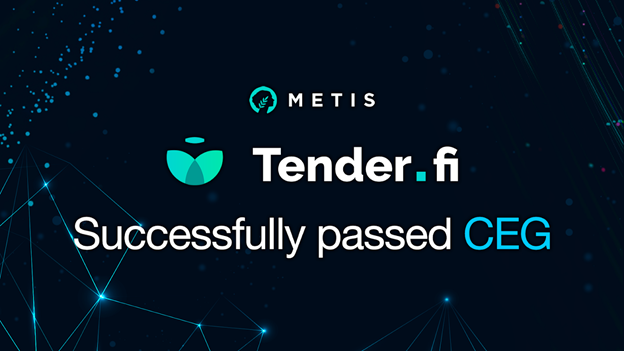 Miami, Florida, United States, 3rd Jun 2022, King NewsWire, We are thrilled to announce that Tender.fi successfully and overwhelmingly passed the Metis CEG last week (fun fact: Tender.fi got the most positive votes in the history of the CEG!): A huge thank you to the Metis community! We are honored to be a member of the Metis ecosystem and to support the network with an innovative financial product that meets everyone's needs. We're looking forward to collaborating with other protocols to grow the Metis ecosystem into a DeFi powerhouse!
What is Tender.fi?
We are a DeFi lending/borrowing protocol with the objective of releasing the last major missing component of DeFi: trustless undercollaterization. In the leverage market, undercollaterization represents less than 2% of the total DeFi TVL but is 80 to 90% of the market size in TradFi! Current DeFi solutions are limited to the realm of closed systems or require information drawn from TradFi to assess the credit risk of borrowers. To fill this gap in DeFi, we are developing undercollateralization as a fully decentralized product with an innovative, accessible, and secure approach.
Who are we?
Industry Professionals. DeFi Natives. Complete and Utter Degens. We love decentralization, and we're super passionate about DeFi. The Tender.fi team consists of entrepreneurs, seasoned technology professionals, DeFi investors, and crypto natives who envision a future of frictionless, interconnected decentralized finance. We believe that creating undercollateralized leverage will catalyze an enormous boom in the decentralized economy, opening a world of opportunity for efficient DeFi capital markets. Undercollateralized leverage is the next step in building the new economy, decentralized and powered by math, code, and community. A financial product implies trust first and foremost, so our protocol is audited and our team is fully Doxxed and KYC'ed.
Why Metis?
Let's quote Alex Gierczyk, our CEO and founder of the project:
"We're building Tender.fi on Metis because we believe in the necessity of developing advanced layer-2 protocols to scale the decentralized economy. Tender.fi will set itself apart from existing lending markets on Metis by employing the highest security standards, a public team, audited open source code, excellent user interface and design, detailed educational resources, and an engaging, well-managed community.
"We're very excited to work with MetisDAO and the leading protocols on Metis to help drive innovation, grow TVL and increase capital efficiency for the Metis ecosystem!"
The full article can be found here: Tender.fi has successfully passed the Metis CEG!
Check our website to learn more about us. Please join our community on Telegram, we are looking forward to discussing our project and vision with all of you! We know transparency is key so we will bring you along our journey every step of the way.
About Tender.fi
Tender.fi is a borrowing/lending protocol on Metis, sustainably providing undercollateralized loans in a decentralized paradigm of permissionless access to capital, without creditworthiness checks, real-world identity, and other methods of risk management.
Website: https://www.tender.fi
Twitter: https://twitter.com/tender_fi
Discord:https://discord.gg/aKZ8hDBvYG
Media Contact
Media Contact: Tender.fi
Contact Person: Elliot Rolvink
Email: Send Email
State: Florida
City: Miami
Country: United States
Website: https://www.tender.fi