Upstreman, the distinguished home appliances company known for seamlessly blending quality and affordability, is making waves in the market with the launch of its latest line of innovative mini fridge models: BR-321, FR-17, and BD-321. These compact refrigeration solutions are poised to redefine convenience in dorms, offices, and bedrooms.
New Mini Fridge Models Designed for Modern Living
BR-321 Mini Fridge with Freezer: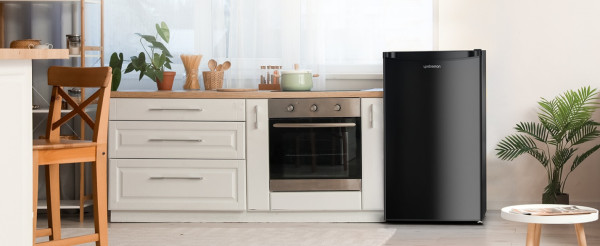 Embodying sleekness and efficiency, the BR-321 Mini Fridge is purpose-built for compact spaces. Boasting a 3.2 cubic feet capacity, this fridge measures 18.7″ (W) x 17.4″ (D) x 33.1″ (H). The adjustable thermostat, operating between 33.8 F to 46.4 F, ensures optimal cooling.
Energy Efficiency: Awarded a 5-star rating, operating at just 38 dB.
Stylish Design: Featuring a black exterior with adjustable legs and a reversible door.
Practical Storage: Equipped with a manual defrost system, crisper drawer, and removable shelves for customizable storage.
FR-17 Mini Fridge with Freezer:
Tailored for small living spaces, the FR-17 Mini Fridge offers a compact design with a 1.7 cubic feet capacity. Measuring 18.9″ (W) x 17.7″ (D) x 19.3″ (H), this fridge features an adjustable thermostat ranging from 33.8 F to 46.4 F.
Energy Efficiency: Holds a 5-star Energy Star rating, operating at 38 dB.
Eco-Friendly: Utilizes R600a refrigerant, minimizing environmental impact.
Compact Design: Black exterior, reversible door, and suitable for tabletop installation.
BD-321 Mini Fridge with Freezer:
Exemplifying functionality and efficiency for personal spaces, the BD-321 Mini Fridge boasts a double-door design and a 3.2 cubic feet capacity. Measuring 17.9″ (W) x 19.7″ (D) x 34.1″ (H), it offers customizable storage solutions.
Dual Compartment: 2.2 cubic feet cooling compartment and 1 cubic foot freezer.
Temperature Control: Selectable temperatures between 33.8 F and 46.4 F for cooling, -0.4 F for the freezer.
Versatile Design: Reversible doors, adjustable balancing leg, removable door seals.
Upstreman's Commitment to Quality
Upstreman reinforces its commitment to quality and customer satisfaction with a one-year worry-free service, ensuring reliability and durability in these sleek appliances.
For more information on Upstreman's revolutionary mini fridge models, please visit Upstreman's Official Website.
Media Contact
Organization: Upstreman
Contact Person: Rian Heroidion
Website: http://www.upstreman-home.com/
Email: support@upstreman-home.com
Contact Number: 516-896-6611 (Mon-Fri 9 AM-5 PM ET)
City: Houston
State: Texas
Country: United States
Release Id: 1611237730