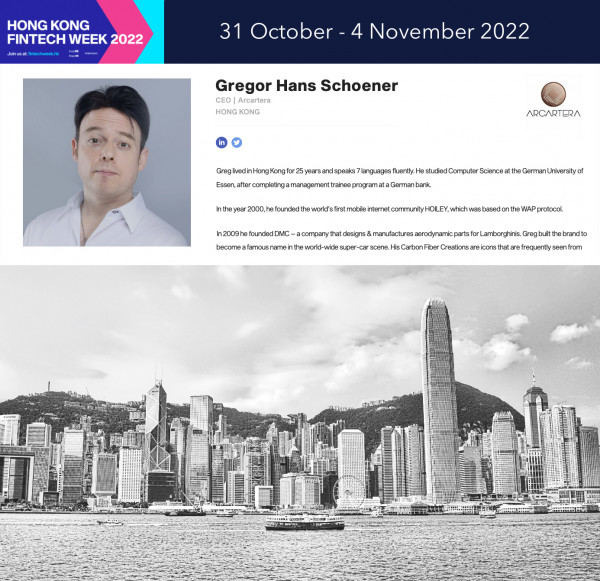 Hong Kong, Kowloon, China, 19th Oct 2022, Arcartera Limited's CEO, Gregor Hans Schoener, will be a speaker at this year's FinTech Week in Hong Kong. HKFTW (Hong Kong FinTech Week 2022) invited Arcartera to be a designated content supporter at the event.
Creator of the Arcartera Protocol, the company focuses on Blockchain Infrastructure for AEC. AEC stands for Architecture, Engineering and Construction, a field that is widely believed to benefit most from the introduction of Web3. This industry is often critiqued because of its inefficiency and low productivity. Smart Contracts can control Building Management and trigger payments to Contractors. Arcartera. had previously been endorsed for their Stable Coin payment gateway by the HKMA, Hong Kong's defacto central bank.
It is for the team's vast knowledge and experience in Blockchain Development that their CEO was chosen as speaker, and naturally his speech will concentrate on how Smart Contracts can benefit the Construction Industry.
The team is looking forward to the event that will be held from October 31st until November 4th, 2022. Hong Kong FinTech Week is Asia's premier exhibition for Blockchain and DeFi development and has internationally renowned speakers from brands like HSBC, Price Warehouse Coopers and the Government. We welcome you to visit www.FinTechWeek.hk for more details.
About us:
Gregor Hans Schoener studied Computer Science in Germany before emigrating to Hong Kong. He speaks 7 languages fluently and strongly believes that Blockchain should have real life use cases with revenue streams in place.
Arcartera is a Hong Kong based Developer of Blockchain Infrastructure that has previously received an official Letter of Appreciation from the country's Monetary Authority (HKMA).
Media Contact
Organization: Arcartera Limited
Contact Person: Media Relations
Email: Admin@Arcartera.com
Website: https://www.Arcartera.com
Address 1: 8th Floor, Brill Plaza, 84 To Kwa Wan Road
City: Hong Kong
State: Kowloon
Country: China