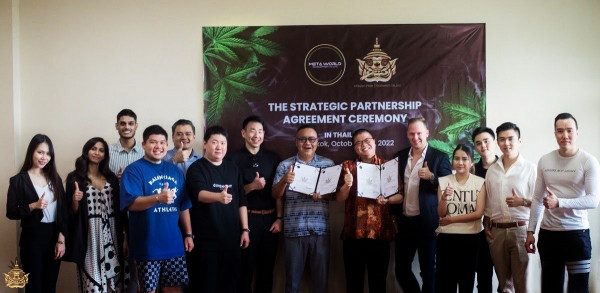 Bangkok, Thailand, 12th Oct 2022, King NewsWire – HIGH is an ecosystem that bridges the entire parties in the cannabis business together. Through its wholesome approach to cannabis production and the application of vertical farming techniques, the HIGH ecosystem is creating the cannabis experience – an end to end process – delivering a complete functional solution to the cannabis industry.
The Beginning Is The Most Important Part Of The Work – Dr Duke Fu and Andy Zhang as HIGH ecosystem strong leaders that direct and originate a guideline of standard operating procedures to guarantee a medical grade harvest. With their expertise, premium medical grade cannabis strains can be grown in greenhouses creating a controlled environment and allowing all-year round cultivation.
Currently the HIGH team is working closely with Petchakasem Farm located in Bangkok, Thailand. 50 different strains are able to carry out harvesting on a higher frequency of three times a year. The first harvest is expected this December 2022. In its goal to facilitate and build a tight cannabis community from the seeds to consumers, the HIGH team has just signed another contract with Rangsit Farm, Bangkok, Thailand. With a total of 17 greenhouses, this farm will have the full capacity to harvest up to 2,500 kg of cannabis per year. Having the right production to the market is a significant move throughout the project.
A cannabis business is difficult to access and capture. It is obvious that the cannabis-related industry will be a top investment destination in Asia in 2022 when investors from Malaysia, Singapore, and China fly in to invest with the HIGH ecosystem. HIGH also has the pleasure to announce that they have signed a farm contract with Singaporean investors at the Rangsit farm facility on the 11th of October 2022.
Presales regularly provide the opportunity for the investors to be involved in a project that could possibly have the lowest price before it reaches the public listing on exchanges. The confirmation that investors from all across the world had been waiting for came on October 5, 2022, with the rapid sold out Presale 1. The next Presale 2 is coming on October 12, 2022.
More on HIGH token Socials:
Twitter | Facebook | Instagram | Telegram
Media Contact
Organization: Mission peak LLC
Contact Person: Media Relations
Email: admin@hightoken.io
Website: http://www.hightoken.io
City: Bangkok
Country: Thailand