Elevate the pursuit of a healthier lifestyle with the newly launched update to both iOS and Android versions of SoonFasting app – the leading intermittent fasting app introduces four customizable widget designs, offering users a visual gateway to their daily health ambitions, directly on the Home screens. Every unlock of phones becomes a reminder of the progress of health tasks, a motivation to conquer wellness goals, and a chance to earn digital medals.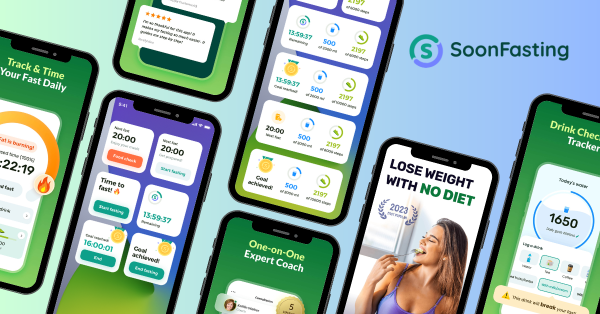 In a move that promises to redefine the way individuals approach their health and wellness routines, the latest version of SoonFasting introduces a dynamic range of customizable widgets. With four unique designs to choose from, SoonFasting aims to transform the user experience by allowing iOS and Android users to seamlessly integrate health and self-improvement tasks into their daily lives, directly from their Home screens.
With the newly unveiled widgets, SoonFasting users gain access to a visually intuitive tool that brings together diverse health goals in one place. Fasting time, step counts, water intake, and other essential tasks are effortlessly managed through these widgets, offering a holistic view of personal health objectives. The app's user-friendly design encourages users to stay committed to their daily targets and unlocks digital medals as a rewarding incentive upon successful completion.
The cornerstone of SoonFasting's innovative approach is its commitment to simplifying the pursuit of a healthier lifestyle. By offering a selection of widgets, users can choose a design that resonates with them, effectively creating a personalized 'kanban for health.' The widgets break down wellness aspirations into manageable, actionable steps, providing users with a clear understanding of their daily goals and progress.
With a single tap, users can initiate their fasting journey, kickstarting their wellness routine on the right foot. The widget also serves as a visual representation of the ongoing challenge, promoting self-accountability and motivation.
Moreover, upon unlocking the phone, the SoonFasting widget provides a friendly reminder of health habits with its vibrant visual progress presentation. Every glance at the Home screen allows for the reinforcement of commitment to well-being, seamlessly connecting a tech-centered lifestyle with the journey towards improved health.
The app takes personalization a step further by offering daily tasks tailored to individual plans. These tasks, updated daily, ensure that users remain engaged and focused on their evolving health objectives. Additionally, SoonFasting recognizes the powerful motivation that special occasions provide and offers custom weight-loss plans for events such as vacations, weddings, holidays, and more.
"With the innovative widget feature, we hope to help users weave their health aspirations seamlessly into their daily routines, enhancing their journey towards improved well-being," remarked Ellen Chen, Operations Director at SoonFasting.
For more information, please visit SoonFasting's Website or get the app from the Apple App Store for iOS and the Google Play Store for Android. Learn how to effortlessly add widgets by watching the tutorial video.
About SoonFasting
SoonFasting is a leading intermittent fasting app dedicated to helping individuals achieve their health and weight-loss goals. With a user-friendly interface, personalized plans, and a range of comprehensive features, SoonFasting has become the go-to app for users worldwide. The app combines cutting-edge technology with expert knowledge to provide an all-in-one solution for intermittent fasting, tracking, and nutrition education. For more information, please visit SoonFasting's website.
Media Contact
Organization: SoonFasting
Contact Person: Nicole Reyes
Website: https://www.soonfasting.com/
Email: business@soonfasting.com
Contact Number: 213-880-4244
City: San Jose
State: CA
Country: United States
Release Id: 2208235673