Taisho to introduce a minoxidil booster developed by Applied Biology to boost minoxidil efficacy for Androgenetic Alopecia patients that do not respond to minoxidil
The minoxidil sulfotransferase enzyme booster (SULT1A1) was acquired by Jupiter Wellness in an acquisition of assets that included issued patents, patent applications, products, clinical trial results, and licensing agreements from Applied Biology
Check out Jupiter Wellness, Inc. (NASDAQ: JUPW) on www.topnasdaq.com to see why it is Undervalued

JUPW's Applied Biology generated approximately $8 million in revenues and $3 million in EBITDA in 2021
– JUPW has been Featured on CNN, ABC, CBS, Bloomberg, Vogue & Forbes.
– JW-300 Treatment Demonstrated Efficacy for Developing Burns (sunburn) in Clinical Trial.
– Acquisition of Ascent Clinical Research Adding $3 Million Annual Revenue Plus EBITDA Contribution.
– JUPW purchases and retires 2,433,894 common shares
Breaking News:
JUPW announces the acquisition of 100% of the assets of Applied Biology, Inc. a leading biotechnology company specializing in hair and skin science, for up to 4 million shares of Jupiter Wellness stock deliverable upon completion of certain milestones.
Applied Biology is a developer of breakthrough drugs and medical devices for the treatment of skin and hair disorders. Led by the foremost thought leaders in their fields, the company's R&D pipeline of novel pharmaceuticals is focused on hair and skin conditions as well as women's health and COVID-19.
Acquisition Highlights
Expected to Accelerate Top and Bottom-line Growth: With the potential of adding up to $8 million in revenues and $3 million in EBITDA on an annualized basis (based on 2021 unaudited financials)
Acceleration and Expansion of Development Pipeline: The acquisition expands Jupiter Wellness's pipeline to additional dermatology drugs in various stages of clinical and preclinical development.
Commercialized Products:
Photocil – Jupiter Wellness gains worldwide rights to patented Photocil, a novel topical treatment for psoriasis, vitiligo, pruritis, and atopic dermatitis. Jupiter Wellness had previously licensed the exclusive rights to market.
Minoxidil Booster – Minoxidil Booster greatly improves the efficacy of minoxidil (from 30% to 60%+) by enhancing the generation of minoxidil sulfate, the active drug.
Adds Robust IP Estate: Applied Biology's IP portfolio includes 35 patent applications and three issued U.S. patents for:
Photocil: Methods and Compositions for Administering a Specific Wavelength Phototherapy
COVID-19 and Respiratory Infection Treatment: Systems, Methods, and Kits for Diagnostics and Treatment of Viral Respiratory Infection
Women's Health: Treatment of Sexual Dysfunction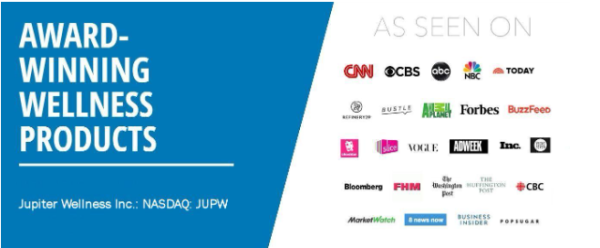 About JUPW:
Jupiter Wellness, Inc. (NASDAQ: JUPW) is a leading developer of cannabidiol (CBD) based medical therapeutics and wellness products. The JUPW clinical pipeline of prescription CBD-enhanced skin care therapeutics address indications including eczema, burns, herpes cold sores, and skin cancer.
JUPW to Offer Clinical Research Services with Acquisition of Ascent Clinical Research: $3 Million Annual Revenue & EBITDA Contribution
On April 27th JUPW announced it has concluded an Asset Purchase Agreement with Ascent Clinical Research, Inc. through which it has acquired certain clinical assets including clinical trial research contracts worth $3 million in annual revenues for a purchase price of 5% royalties on future net revenues generated by the assets.
JUPW Launches NoStingz Jellyfish Protective Sunscreen Backed by Patent-Pending Formula in $13 B Sunscreen Market
On April 5th JUPW announced the launch of NoStingz, a proprietary line of sunscreen and signed a license agreement with Shark Defense Technologies for the exclusive worldwide intellectual property rights.
On February 18th JUPW announced it has completed recruitment in its clinical trial of JW-200 for the treatment of actinic keratosis (AK).
JUPW Board Approval of $5.0 Million Share Buyback Program
On January 25th JUPW announced it its board of directors approved a $5.0 million share buyback program which expires on June 30, 2022. Under the Share Buyback Program, shares of JUPW common stock may be repurchased periodically in open market or privately negotiated transactions.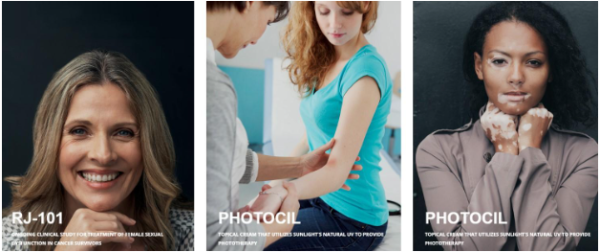 For additional information Visit on(JUPW) at: www.jupiterwellnessinc.com.
**All products mentioned in this article are THC-free and compliant with the 2018 farm Bill**
DISCLAIMER: This article is purely for informational purposes and is not a recommendation in any way for buying or selling stocks
Media Contact
Organization: Jupiter Wellness, Inc.
Contact Person: Brian John
Email: Send Email
Country: United States
Website: https://jupiterwellness.com/